S53L - Universal Woodcarving Set of 10 Tools (left-handed)
$178.00
$149.99
Sale ends on ,

10 Years Guarantee
This product carries a 10 years guarantee from the original purchase date.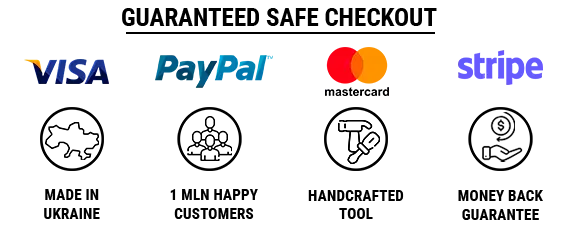 A tool holder is included in the set

Includes 10 ready-to-use woodcarving knives

Comes with a leather strop and a green-grey polishing compound

Suitable for beginners and professionals
Every wood craft lover or passionate DIYer who has witnessed the power of wood carving art dreams of a toolset that can turn even the most intricate carving projects into a breeze. When choosing a good wood carving tool, left-handers face more problems than right-handers. To make it easier for you to find the perfect tools for your carving tasks, we have created an extensive BeaverCraft S53L – a universal woodcarving set of 10 tools. Whatever your wood carving goal is, you can achieve it with our whittling kits.
The number of tools in this set will amaze everyone, regardless of carving experience or age. These tools can be easily mastered by kids, teens, and adults.
Each of the instruments has been carefully designed and brought to perfection, following strict quality requirements. If versatility, functionality, razor sharpness, and precise geometry matter to you, our BeaverCraft S53L woodcarving set of tools is a real find.
Keeping your favorite instruments in order will be much easier. With the handy and practical wooden tool holder that comes with the tool kit, your woodcarving place will look neat and well organized.


Dimensions of the tools:
C1m – Small Whittling Knife
Blade length – 50 mm (2.1 inches)

Handle length – 100 mm (4.1 inches)
C3 - Sloyd Carving Knife
Total length – 165 mm (6.49 inches)

Blade length – 40 mm (1.57 inches)

Blade width – 13 mm (0.51 inches)

Handle length – 120 mm (4.72 inches)
C4 – Whittling Knife
Total length – 200 mm (7.87 inches)

Blade length – 80 mm (3.14 inches)

Blade width – 17 mm (0.66 inches)

Handle length – 120 mm (4.72 inches)
C13 – Whittling Knife
Total length – 165 mm (6.5 inches)

Handle length – 105 mm (4.13 inches)

Length of the cutting edge – 60 mm (2.36 inches)
SK1OakL (left-handed) - Spoon Carving Knife 25 mm with Oak Handle
Total length – 185 mm (7.3 inches)

Rounding diameter – 25 mm (1 inch)

Handle length – 130 mm (5.12 inches)
SK2OakL - Left Handed Spoon Carving Knife 30 mm with Oak Handle
Total length – 195 mm (7.68 inches)

Rounding diameter – 30 mm (1.18 inch)

Handle length – 130 mm (5.12 inches)
SK4 - Open Curve Spoon Knife
Blade length – 60 mm (2.36 inches)

Handle length – 200 mm (7.87 inches)
SK5 - Spoon Carving Knife Deep Cut Bevels
Blade length – 85 mm (3.35 inches)

Handle length – 200 mm (7.87 inches)

Total length – 255 mm (10.04 inches)
K8a/14 - Compact short bent gouge. Sweep №8
Blade width – 14 mm (0.55 inches)

Total length – 192 mm (7.56 inches)

Blade length – 80 mm (3.15 inches)

Handle length – 115 mm (4.53 inches)
GL7/20 - Long Bent Gouge (20mm)
Total length – 285 mm (11.22 inches)

Blade length – 130 mm (5.12 inches)

Blade width – 20 mm (0.79 inches)

Handle length – 155 mm (6.10 inches)