C2 - Wood Carving Bench Knife

10 Years Guarantee
This product carries a 10 years guarantee from the original purchase date.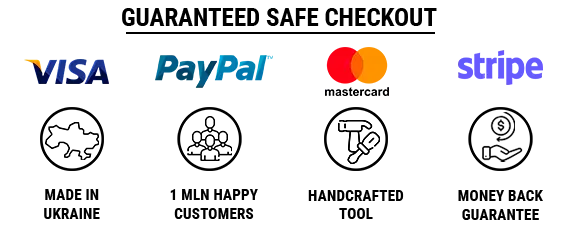 For Delicate Wood Carving
Ergonomic Handle Allows No Hand Fatigue
Razor-Sharp Out of the Box
For All Types of Wood
Weight - 0.06 kg
The quality of the tool always plays an important role, especially when working with wood. Whether you're a beginner or a professional, your knives for wood carving should be specific and, most importantly, sharp. You cannot create a quality wood carving with a simple kitchen knife.
The BeaverCraft C2 bench carving knife is a versatile tool used for carving small solid wood pieces. It is convenient to carve small figures and sculptures. But not just shape the future product (rough carving) but recreate small details and give a finishing look to your whittling project.
Using this wood carving knife, you can carve small custom wooden decor, hand-made wooden toys, and figures of animals, people, and car models. The versatility of the BeaverCraft C2 cutting/chip carving knife lies in its multifunctionality: you can use this whittling tool at the initial stage of the carving process and for carving ornaments, notches, bulges, and figured cutting.
The BeaverCraft C2 bench knife for fine chip carving is made from premium materials - high-carbon steel and durable wood. This knife is made by hand, goes through many different processing stages, and is perfectly balanced. The handle is made from quality solid oak, which guarantees both the strength and beauty of this wood carving tool.
Carving knife
We bought this to get started on some basswood carving and it works well. My husband and grandson both like it a lot. They've been carving up a storm. It's a nice way to relax.
schnelle lieferung
das messer ist sehr scharf undliegt gut in der hand
produit au top
je viens de mettre un mauvais commentaire , j ai fais une erreur la mauvaise note n'était pas pour ce produit ,je rectifie ce produit est au top très très contente très bon produit je recommande et livraison respectée
Works very well
I got this to whittle on some mesquite for a project and Ive got to say I'm surprised, the extremely hard wood gets carved away like butter. No blade damage, quite pleased.
Works and High Quality
Highest quality for your dollar. I work a lot with wood, and this is what you want. Trusted seller.
Didn't arrive sharp but good knife
Was not sharp when it arrived, bit after a good strop it's razor sharp. Works well, very happy with it as my first whittling knife.
Comfortable and cuts very well
The short blade and comfortable handle makes carving easy to do.