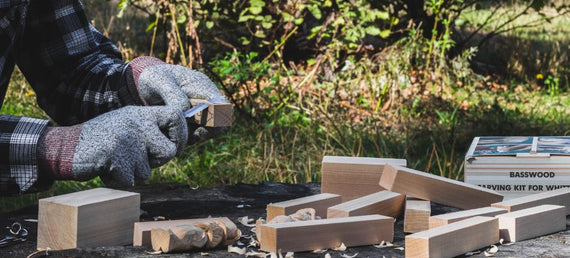 Woodcarving is an exciting hobby that can be fun, rewarding, and relaxing. But before you dive into this creative activity, it is better to learn some basics.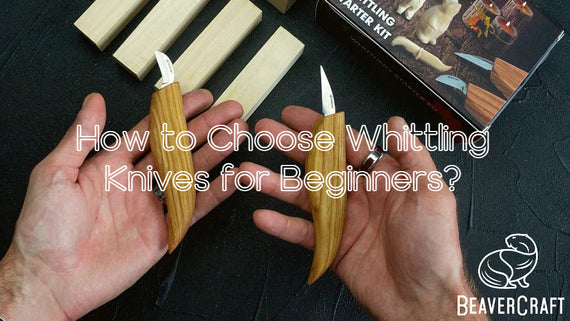 In any craft, there are tools that are optional and those you can't work without. If you are into wood design, beginner or professional, one basic tool you can't really escape is a...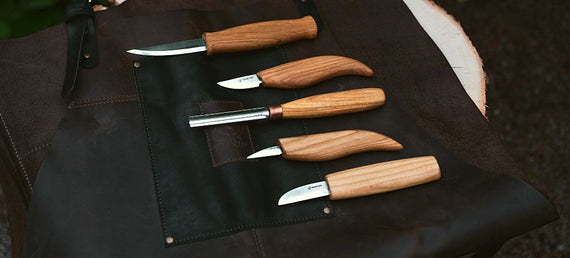 Do you want your knives and tools to last a long time and be reliable and easy to use? We have prepared a simple guide to help you choose basic wood carving tools...
ABOUT YOUR FAVORITE HOBBY
Hi there! Welcome if you are a first timer or a regular customer – we're always glad to see people here, even more when we've got something to share with you. Whittling is and always has been a great meditating hobby, something that lets your mind rest while your hands do the trick. The Internet has become a great source of new thoughts on the topic, things to do and like-minded people like us here to share those things with.
It would be our pleasure to assume that we helped some of the people to learn, develop and feel better with our products, tips and overall warmth in the community that gathered through BeaverCraft goods and tutorials. The article in front of you is meant to be a reminder that we are here for you and happy to suggest new things to try.
Usefulness of wood carving and its issues
The activity of wood carving has been getting more and more spread amongst people. It had its fans before, of course, but now there are more and more of us and that is incredibly beautiful! People are craving something new to try out, something exciting to create. Carving makes people feel closer to nature, it's an amazing hobby to take up if you are tired of how much technology surrounds us these days. However, the technology has some positive outcomes – it's become much easier to get something, including quality wood tools, not only at your local wood carving shop, but anywhere around the world. The question of "How can I buy woodworking tools near me?" stopped being an issue.
BeaverCraft would like to address this topic further. With us getting your orders anywhere is not a problem! Of course, you must already be familiar with the system of online shopping and delivery – everybody had to learn this stuff nowadays. Especially bearing in mind this fact: places where you simply don't have wood carving local stores also exist because it may be not very common in the area.
BeaverCraft – wood carving store online
Let us welcome you in the warm embrace of a good wood carving store online. We mostly cooperate with online deliveries and got some distributors in a few countries. BeaverCraft woodcarving knives UK, as an exemplar, can be bought in our local distributor's store Cyclaire Knives and Tools Ltd in York. Of course, you will be able to get the London carving tools delivery from there too.
This is only an example. Do you want to request a Canada wood tools delivery? The USA woodworking tools, perhaps? New Zealand woodcarving knives? DE carving tools? Anywhere in the world, the choice is yours: simply select the products you'd like to receive, click "Add to cart" and you'll see an enormous amount of places to order to when you check out your goods. We work with two different posts to deliver your package, so that is totally up to you as well.
What carving tools can I acquire from you?
Now the question "What shall I do if I can't find high quality wood carving tools near me?" has been answered and the next one will probably be "And what types of woodcarving tools can you offer me?". Well, it's a pleasure for BeaverCraft to answer.
In our online store you'll be able to find all kinds of hand wood tools and accessories for them. We've got wooden blocks, stropping arrangements such as strops and pastes for buffing your knives, wheels for polishing. You won't be disappointed with the variety of things in stock. Yes, we don't manufacture power tools (at least yet), but we firmly believe: the art of carving can be arranged and maintained with the strength of your hands and mind. What else is worth mentioning is the fact that none of our gouges nor chisels are produced for using without mallets or hammers.
All of the instruments that we manufacture are made in Europe, the biggest country of its Eastern part – Ukraine. We do our best to maintain the best European quality in every single tool that we create.
They all have high-carbon razors just to make sure you'll savour every second of wood carving with them – that type of steel is known to stay sharp much better than a lot of its alternatives. Various sources even say it is the best material for woodcarving knives.
The shafts of the instruments are all wooden, some made of ash and some made of chocolate walnut so you can choose the style that fits you the most. They are all covered with natural oil to preserve the quality of the handles.
Since one of the reasons for us to create our own manufacturing was the lack of affordable quality instruments on the markets, we've made it our goal to leave the carving tools price reasonable for all customers.
We're not restricted in terms of the purpose for our instruments too. There are tools for carving round shapes – spoons, cups, bowls, even kuksa carving, the usual carving knives and kits for the general carving, chip carving knives too. Choose what you need.
All in all, we'd like to say that nothing will stop us from staying creative and creating new great things for you. Do you need your Australia wood tools? Ireland woodcarving knives? Germany carving tools? We're here for you, guys. Welcome!