DIY01 - Comfort Bird Carving Kit - Complete Starter Whittling Kit for Beginners Adults Teens and Kids

10 Years Guarantee
This product carries a 10 years guarantee from the original purchase date.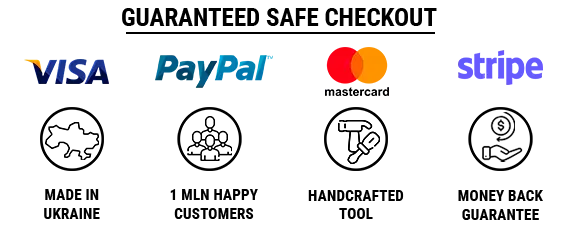 This kit is primarily designed for beginners
Suitable also for kids
Includes all the tools needed + tutorial
Perfect gift for someone who is new to woodcarving
Weight – 0.5 kg
Have you ever wanted to try your hand at woodwork? Do something beautiful and unique with your own hands? Sometimes, many do not go further than this desire because they are stopped by not knowing where to start.

Whether you're a wood carving enthusiast or want to try out a new hobby, this BeaverCraft DIY01 Comfort Bird Carving Kit is your best bet. Amazingly that everything you need for a creative impulse can fit into one kit. What could be more fun than implementing creative whittling projects and expressing yourself through your creations? You can even set carving sessions with your friends, making carving even more fun with your loved ones.

The BeaverCraft DIY01 Complete Starter Whittling Kit has everything you need to start carving right away. Here you will find two wooden blocks (cherry and basswood), a whittling knife with a perfectly sharp blade, a Comfort Bird template, sharpening essentials (leather strop and polishing compound), safety tape, and three types of sandpaper. In addition to these accessories, you will have a step-by-step video tutorial and an easy-to-follow guide on bird carving. Everything is done thoughtfully so that a wood carving enthusiast of any age (child or adult) can get the most out of carving a bird figurine out of wood.

Great
Comes with more carving stuff than i thought it would. Great little kit.
I bought this as a gift for my adult son. He has expressed an interest in woodworking. He enjoyed it. Product came out very nice.
Great for beginners
Very easy to follow, everything you need is in the kit, highly recommend,
Love it!
Whittling this bird will be a slow process for me, but everything I need to learn how and complete the project is in the box.
Very fun
Purchased as a gift for my girlfriend who loves amateur wood working and she loves it
Everything you need in one box!
I've been carving on and off for a year now so I'm still pretty new to the hobby. I've made some lighthouses (lighthomes? Lol), hearts, a ball in a cage, a crappy spoon, and a small fox. Easier things to practice the cuts and learn the patience. They're not perfect carvings by far, but I made them and I'm pretty proud of them :) I've been eyeballing this comfort bird kit for a while and finally bought it. It looks easy enough, right? The kit includes two wood blocks, the carving stencils to glue on, a strop, the compound for the strop, sandpaper, a step by step booklet, finishing wax, bandages, wrap, a knife, and probably a thing or two I'm forgetting.While they do sent tape for wrapping fingers, I'd suggest wearing some gloves as well. When I was still very, very, very new to this I cut myself pretty good through the tape and had to go to the ER. My mistake was not reading the wood grain and knowing when to turn the wood so i hit a chunk and the blade skipped to my thumb and you can figure out the rest. Gloves would offer an additional level of protection.If you're new to the hobby, be warned that their tools come to you sharp as heck! Take your time, get to know how the wood grain runs while you're carving, make sure your fingers are protected, and you're ready to go!
Can be dangerous
During my first session with this product I had so much trouble with cutting the wood. The knife would get jammed and twice I slice myself straight through the provided protective wrap. I figured it was me being a novice. I kept trying after a lot of struggling I managed to make something that looked like a bird.I was really discouraged and almost gave up on the hobby. As I was looking for tips and tricks to make the second block easier I came across a YouTube where a more advanced person tried out the kit. They complained about how hard the wood was. I ended up getting wood to try from another vendor and it was so easy.
The best gift!
I bought this for a friend who had shown an interest in whittling and woodworking and she LOVED it! Getting the call and hearing she had the instructions and care for how to do it made me very pleased. May have to buy my own coming up soon! She gushes over it and how well the instructions and pictures are. It'll be her first one and it is not too intimidating from the sounds of it, so great points! Thank you so much!