DIY03 - Wizard Carving Kit - Complete Starter Whittling Kit for Beginners Adults Teens and Kids
$29.00
$20.00
Sale ends on ,

10 Years Guarantee
This product carries a 10 years guarantee from the original purchase date.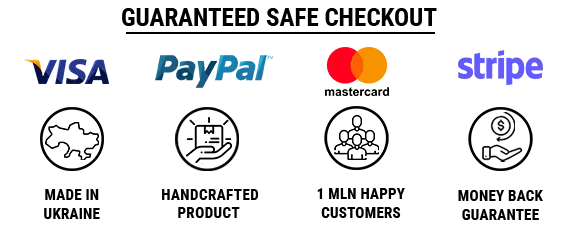 Perfect gift for someone who is new to woodcarving
The kit includes all the tools needed + tutorial
Suitable not only for adults, but also for kids
This kit is primarily designed for beginners
Starter carving sets have received a lot of attention on our website, which will give you a huge scope to choose from among the wide range of various wood carving sets. Each BeaverCraft DIY carving kit is designed to unleash the creativity of woodcarving for people of all ages and professions.
Our versatile DIY03 Wizard carving set is a complete starter kit for adults, teens, and kids. If children reach out to create something with their own hands, this is only for the better. After all, each woodcarving session develops perseverance and fine motor skills. It helps to train the sense of beauty and teaches you to appreciate the time spent on handwork.
If you want to get the magic out of wood, check out our DIY03 Wizard whittling set, and try your hand at this exciting and captivating wood carving hobby. In this all-in-one set, you'll find everything you'll need for your first attempt at wood carving. There is a first-class durable wood carving knife, safety tape, three top-quality basswood blocks, a Wizard pattern, a pencil, and a detailed video tutorial to give you a pleasant and fun wood carving experience.

What does our whittling kit include?
- C2 Wood Carving Knife 
- 3 Basswood Blocks
- Pattern
- Pencil
- Booklet
- Video Guide Sent by Email
- Safety Tape
Everything you need to get started and then some!
My only disappointment was the size of the supplied basswood… only 1" wide, but three pieces are provided. The instructions are well written with photos and a sense of humour, a video link is provided to help you along as well. Kit includes everything you need to start carving, it even includes band-aides lol!!! Also, the kit is a product of the Ukraine which makes me happy :)
Good products. Excellent online tutorials.
Great new hobby! I was reluctant at first b/c I didn't know how to carve. In addition to good products and tools, the company offers online help including sketches and tutorials.
did a review on Twitter MUST HAVE
buy this kit... great hobby, great quality, fun gift...
I was very impressed with this item
I was very impressed with this item. This item looks like it's gonna be lots of fun to start I haven't started it yet but when I go on my hunting trips when I'm going to start trying to whittle
Bon kit
Kit bien pensé, avec pansements et protèges doigts intégrés.
Team activity
Great for a team activity
Great gift for a beginner
It comes with three wood blanks so you have a few tries. My husband loved it. Can't wait to see how they come out.
Great kit!
It's been a great kit, and the company has amazing customer service!
Fun kit
The instructions are detailed. The sandpaper makes the wood gray. From left to right is my progression. The knife is becoming dull and making the wood split. I recommend watching some linker's videos on YouTube to learn more about technique. Watching his wizard one I figured out how to do the nose. See how much better it is in the third piece? I'm going to sharpen my blade, get more wood and try again.
Excellent kit.
Great kit for beginners. This was my second BeaverCraft kit and they are wonderful. I did this in a few hours. Kit comes with a pattern, booklet, and a link to video for step by step instructions. Tons of fun and I learned a lot. Highly recommend.