DIY05 - Bear Carving Kit – Complete Starter Whittling Kit for Beginners, Adults, Teens, and Kids
$49.99
$29.00
Sale ends on ,

10 Years Guarantee
This product carries a 10 years guarantee from the original purchase date.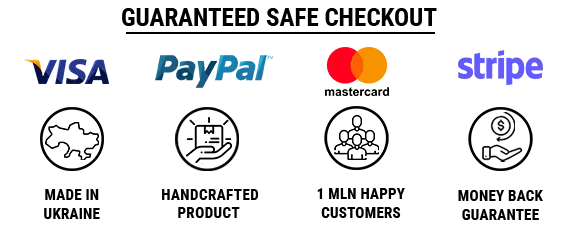 Perfect gift set for those who are new to woodcarving

This DIY wood craft kit is a go-to choice for beginners and entry-level carvers

It's an all-in-one hobby kit with all supplies, versatile crafting tools, + tutorial

Family-friendly fun for adults, teens, and kids
Reveal your inner wood carver with BeaverCraft game-changing hobby starter kits. Try your hand at wood carving with our brand-new DIY05 Bear Wood Carving Kit. This all-in-one wood craft kit is a perfect solution for those looking for a new hobby to pass the time and those who are tired of the same old projects and want to try something new.
This fun and entertaining DIY kit might be just what you've been looking for to up your wood carving game. Our DIY Bear Wood Carving Set contains everything you need to get started in this craft. It is carefully designed for beginner carvers, hobbyists, and DIY enthusiasts to help you create a beautiful and memorable keepsake with your own hands.
Our DIY wood carving kit for beginners comes with everything you can think of. It includes all essential supplies – a Bear template and a pencil to make marks on your carving, two basswood blanks, three pieces of sandpaper for a perfect finishing, an extra sharp detail pro knife, sharpening accessories (leather strop+polishing compound), safety tape, a booklet and step-by-step video tutorial on carving a Bear! Sounds impressive, right? Try our starter whittling kit and carve a Bear figure over a weekend. Yes, you can do it yourself!
Unleash your inner creativity with this beginner-friendly DIY Bear wood craft kit and get an unforgettable wood carving experience. Learn how to make a new whittling project for yourself or to give as a gift. No matter your skill level, using our high-quality wood carving tools and easy-to-follow tutorial (which will be sent to your email after purchase), you will create a cute Bear carving of your own.
What does our whittling kit include?
C17P Universal Detail Pro Knife

2 Blanks of Basswood

Leather Strop for Sharpening + Polishing Compound

Safety Tape

Bear Pattern

Pencil

3 Pieces of Sandpaper

Booklet

Video Tutorial Sent by Email
Granddaughter was happy with this product.
Start with a kit first
Start with a kit first. Use the kit first there are multiple kits each teaches a different lesson I enjoy the kits and I started by them about a year after I had started with my knife collection but you should start with a kit at least once a month and you will learn faster and become more accomplished I enjoy whittling each night you will too
Everything you need to get started!
This kit has everything you need to get started carving! The included wood is soft and easy to carve. The thin, leather strop is my favorite part of the kit and is really convenient to take with you on the go. The only thing I didn't love about the kit was the knife, but I didn't take off a star because my dislike of the tool has to do with personal carving preference, and not something to do with its performance. The knife comes super sharp and holds an edge very well and the handle is oil finished, which allows for a better grip. I prefer to have my hand closer to the blade than this tool allows without choking up on the neck of the blade, and I found holding the tool this way to be awkward. However, if this isn't something that bothers you, this knife will be a versatile tool in your arsenal! For full transparency, I received this kit for free as part of an Instagram giveaway.
Perfect kit
This kit is perfect. Comes with everything you need to carve a bear. Comes with instructions, 2 blocks of wood, a pattern, sandpaper and of course a super sharp carving knife. It feels great in the handmade easy to control. Great product and well worth the cost.
Another winner from Beavercraft
I'm very happy with this new carving kit from Beavercraft. This is a complete kit with everything needed to carve 2 cute little wooden teddy bears. The knife in this kit is unique to other kits and may take some getting used to, but it is going to be great for all the detail carving now and in the future. They have thought of everything in this kit including a pencil to trace the pattern. I recommend this kit to beginners and intermediate carvers alike. Great work Beavercraft.
Outstanding product
I won this kit in a Beavercraft contest, I really enjoy their carving products. The kit came in a nice package. There was everything in the kit for this project. The knife came already sharp, carving the wood is enjoyable an ease of handling the knife is comfortable. All in all I find no downside to this product. I highly recommend it for beginners and pro's alike.
Really interesting tool
I really liked this knife and set. The wood was good and the extras were nice, but lets not mince words we come for the knife. I found this knife to be really interesting in a good way. The unique design really gave we different wats to create leverage on the wood and cut I was making. It came sharp and I stropped through out the carving and the tool stayed sharp. This is a great kit to add to your collection.
Wonderful kit!
The quality of the knife and the wood are spectacular! The kit is very well thought through. I'm just starting, so I don't feel like I can give a true expert opinion. The book is very well documented with pictures. You also get access to a video of the process. I'm very impressed with this kit.
Great wood carving knife
Wonderful little carving knife. The blade is sharp straight out of the box and only takes a bit of stropping between uses to keep it razor sharp. Handle is comfortable and the blade is strong but flexible. Highly recommend this knife.