S13X - Deluxe Spoon Carving Set With Walnut Handles
$73.95
$59.00
Sale ends on ,

10 Years Guarantee
This product carries a 10 years guarantee from the original purchase date.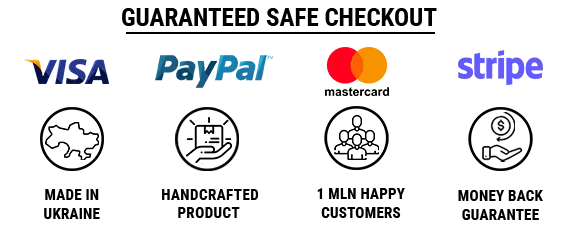 This is a premium set for woodcarving

Comes in a leather tool case

Green-grey polishing compound and a leather strop are included

The handles of the knives are made of durable black walnut
We are happy to present you our new DELUXE spoon carving set with premium quality. The unique feature of this set is the handles made of black walnut. This material is extremely strong and has a unique grain and color that all the woodworkers like so much! Besides, the tools come in a genuine leather pouch to keep your tools in one place.
As always, all our tools are razor sharp and ready to use right out of the box and the blades are made of high-quality high-carbon steel. Besides, the handles are not only made of long-lasting material but are also ergonomic, which allows long hours of woodworking without fatigue in the hands. With this set, you'll be able to carve the most wonderful spoons, that you could ever dream of. Do not hesitate and buy now!
Dimensions:

SK5 - Spoon Carving Knife Deep Cut Bevels
Blade length – 85 mm (3.35 inches)




Rounding diameter – 25 mm (1 inch)




Handle length – 120 mm (7.87 inches)




Total length – 175 mm (10.04 inches)



C4m – Whittling Knife
Total length – 185 mm (7.28 inches)




Blade length – 80 mm (3.14 inches)




Blade width – 16 mm (0.63 inches)




Handle length – 105 mm (4.13 inches)
C8 - Detail Knife
Total length – 165 mm (6.49 inches)




Blade length – 45 mm (1.77 inches)




Blade width – 8 mm (0.31 inches)




Handle length – 120 mm (4.72 inches)



cumple
Buena calidad, llegan afilados, los he usado con ramas secas, me falta ver como trabajan con otras maderas más preparadas para el tallado.
Impressed
It was a quality item at a great price, as well as being delivered on time 😊👍
Excellent quality
Came quick very sharp has all you need to learn and carve with this kit ive made a bowl and spoon so far.
Nice carving set
Great little carving set. A couple of essentials to get you started or to take with you. Heavy duty leather case. Very happy with this product.
Great gift!
My adult son was really excited when I gave them this set as a gift. He tried them out right away, making a spoon, and was so happy with the quality!
Great kit
We got a kick out of the included bandaids! Daughter is loving this so much!!
Perfekt!
Für Anfänger wie für Fortgeschrittene das perfekte Starterset und durch die schöne Tasche regt es an um auf Wanderung Pause zum schnitzen zu machen.
Muy buena calidad
Es un buen producto, su calidad es muy buena, lástima que el forro venia muy rayado.
Klingen sind sehr scharf
Habe mir mit dem Set einen Holzlöffel geschnitzt. Ich bin sehr zufrieden und vom Messerset sehr begeistert