K8a/14 - Compact short bent gouge. Sweep №8
$25.00
$17.00
Sale ends on ,

10 Years Guarantee
This product carries a 10 years guarantee from the original purchase date.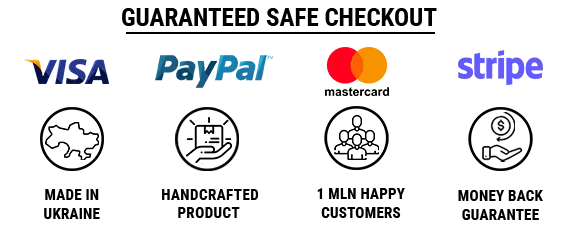 Short Bent Gouge for Manual Use Only
For All Types of Wood
Comes Ready to Use out of the Box
For Wide Range of Rounded Projects
Weight - 0.09 kg
Many carvers use chisels of various types of profile and blade shapes to perform figured artistic wood carving and create the most intricate and beautiful whittling projects. One of the most popular instruments for a carver is a curved chisel (a bent gouge). You can find this cutting tool in the standard tool kit of any master. This type of chisel is distinguished by specific features based on its shape.
The BeaverCraft K8a/14 wood carving bent gouge is a handy semi-round chisel for wood carving with a curved shape. Due to its blade design, its handle does not touch the wooden surface during carving. The BeaverCraft chisel of this series is designed to process soft and hardwood types without a hammer or mallet. Wood carving is done only by applying the power of your hands.
This BeaverCraft K8a/14 woodworking hand chisel is used to make deep cuts on workpieces, for example, when cutting bowls. With the help of this wood carving tool, you can make kuksas, bowls, or spoons of any design. It is suitable for processing wood blanks and cutting various patterns and ornaments into them. Such a carving tool will be an excellent solution for both a professional and a beginner in this type of creative activity.
Great tool at a great price!
This is a truly exceptional tool that has been a pleasure to use in my woodcarving projects.First of all, the build quality of the BeaverCraft gouge is outstanding. The blade is made from high-quality carbon steel, which has allowed it to maintain its sharpness even after extended use. The handle is also made from durable wood, providing a comfortable grip and ensuring that the tool feels balanced and sturdy in my hand.What I love most about this gouge is its versatility. The bent blade allows me to carve both deep and shallow grooves with ease, and the 22mm size is perfect for a variety of woodcarving projects. Whether I'm working on a small, intricate piece or a larger project, this gouge has been up to the task every time.Another great feature of the BeaverCraft gouge is its ease of use. The blade cuts smoothly and effortlessly through wood, making it easy for me to achieve the precise cuts and shapes I need. I also appreciate the fact that it's easy to sharpen when needed, so I can keep it in top condition with minimal effort.Overall, I would highly recommend the BeaverCraft Woodcarving Bent Gouge to anyone who is serious about their woodcarving. It's a high-quality tool that offers exceptional performance and versatility, making it an excellent investment for any woodcarver's toolkit
Good sharp tool, very sharp
This bent gouge spoon carving tool came carefully packaged. We were pleasantly surprised with the something extra that was included. Grins and laughs that the company included two adhesive bandages. We will purchase from this company again. Note to self: Keep the bandaids handy. :)
super sharp out of the box
Great tool right out of the box. good control and feels good in the hand, well worth the money/
Sturdy, well-made tool
Perfect for carving out the bowl of a spoon. Sharp blade, and comfortable handle. Appears to be very well-made and sturdy.
Very pleased right out of the box.
Right out of the box the Wood Carving Bent gouge K8a/140.55 is sharp and ready to use. I was pleased how easy it would gouge out the pine wood I was working with. I haven't tried it yet with any hard wood yet but I can tell it's going to work very well. The curve of the gouge is great to work with. If you're not going to deep into the wood you can scoop out the wood pretty easily, I just took it slow as not to gouge any fingers. I found it easier to put the wood into my vise so I could use two hands to hold the gouge. I'm just beginning to get into wood carving and this gouge makes it fun to make a spoon or a bowl. It's a good price and a quality tool to have. I was going to get a curved carving knife but I'm glad I got this bent gouge first.
Richtig scharfes Teil
Richtig scharf und auch super griffig
Sturdy and sharp
I opened the box to find a sturdy spoon gouge with masking tape protecting the tip. Also included was a bandaid. I took the gouge to a piece of walnut I had been working. It cut the wood sharply and felt steady in my hand. I was on my lunch hour so just a bit of experimenting. Within a minute I needed that band aid.
Sharp out of the box
I had an issue initially but the company stands behind their product and replaced quickly. Sharp out of the box and ready to work!
Wont disapoint
If your not buying BeaverCraft, your missing out.High quality, feels great in the hand, stays sharp.Ukrainian products are superior to Chinese products by far. It wont disappoint.
Quality with a sense of humor
I'm making special spoons for a widespread family. In my collection of tools, I didn't have this particular bent gouge and needed it. I was pleasantly surprised to find that the gouge was made to a very high standard in Ukraine and that instead of the standard warnings of how you can hurt yourself using a sharp tool, the package included two bandaids. Quality, and with a sense of humor. Thank you.