BSH3 Nightfall – Carbon Steel Fixed-Blade Bushcraft Knife Walnut Handle with Leather Sheath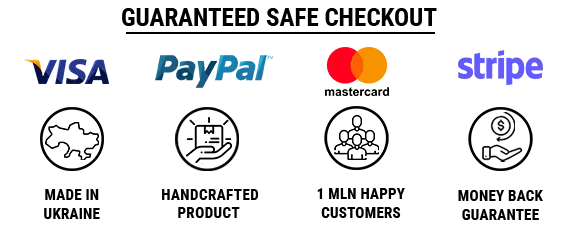 Whether hiking, hunting, fishing, or camping, you never know when or why you'll need a knife, so it's better to be prepared for the unexpected than completely helpless at the wrong moment.
This BeaverCraft BSH3 Nightfall is a top-notch full-tang survival knife, an indispensable accessory for any hiker, wilderness backpacker, hunter, or camper. It is an excellent model suitable as an everyday or tactical knife. It's elegant, lightweight, compact, and ideal for those who spend most of their time on the move. The blade of this knife is made of top-quality carbon steel with a hardness of 58-60 HRC.
Within our selection of bushcraft knives, the BSH3 Nightfall is one of the exclusive models boasting a blued steel finish. Blued steel got this name because after coating the steel with a film of oxides, it becomes blue-black. This approach prevents rapid corrosion, allowing this bushcraft gear to be used in rainy or moist environments.
In addition, quality sharpening will provide you with the highest performance (the blade cuts efficiently and retains its sharpness for a long time without getting dull). It makes it an ideal tool for most tasks – from fieldwork in the wild to simple outdoor chores. The handle is made of beautiful European walnut in an ergonomic design and provides a comfortable and high-quality grip.
This feature is an essential quality of any BeaverCraft tool. Our camping survival tool comes with a cowhide leather sheath that allows you to have a quality and reliable BSH3 bushcraft knife at hand without fear of losing it.
Specifications:
Total length – 245 mm (9,64 inches)
Blade length – 120 mm (4,72 inches)
Blade width – 35 mm (1,38 inches)
Handle length – 125 mm (4,92 inches)
Steel material – 1066 Carbon, 58-60 HRC
Handle material – European walnut
Sheath material – Cowhide leather
Really nice knife for the price.
I've ordered 3 knives at varying price points in the past month or so. This was the mid point price knife that I ordered, and it's also my favorite of the 3.The handle is comfortable and nice looking, you gotta love a full tang, and it came nice and sharp right out of the box. Way sharper than the other knives I've ordered. The blade also isn't overly thick like some of the knives I've ordered so it doesn't feel unwieldy. The sheath is also very decent. The leather is a little soft and supple but also feels nice and fits the knife well.Overall happy with this knife and would recommend if you're looking for something like it!
nice knife
This is a nice knife that I will not mind putting through a little bit of abuse. It came pretty sharp but I was able to get it really sharp in a couple minutes. It has a good weight and feel. It is really nice to hold.It feels very durable. The sheath is a lot nicer than many others I've had and will actually be useful.I think this is a lot of knife for the cost and will get a lot of use.
Great craftsmanship and very sharp!
I'm a huge fan of Beavercraft. They're my go to when purchasing wood carving knives. This bushcraft knife is the perfect size and quality to meet your needs in the wild.
Very nice knife
Would definitely recommend to buy this knife
A High Quality Knife
This bushcraft knife is well designed with expert craftsmanship. The knife is well balanced and the handle fits comfortably in your hand. I appreciate the high quality of the knife so much that I also ordered Beaver Crafts wood carving set. 🙂
Good feeling knife, quite sharp
I do like this knife, it's quite sharp and the blade is pretty thick but it's pretty light at 5.3oz total without the sheath. To me this is on the light side compared with other knives I have of similar size. As such I am not sure I would risk batoning this particular knife, if you do I would do so at your own risk. That said it holds it's edge well, whether I use it for debarking or shaving wood. Since I can't say with certainty that you can't baton with this knife I will base the stars off everything else and I am going with five!
Great quality and value
Thank BeaverCraft for the finely crafted knife. I am excited to have it for my upcoming adventures. Your company is great to work with. I will continue to add to my caring and outdoor adventure collections.
Nice
Seem to be good quality and materials. Feels really good in the hand, and very sharp out of the box. Looking forward to getting many years of use from this nice quality knife.
Amazing
I was fortunate enough to win this knife in a give away!Overall it was an incredibly friendly experience and they checked in to make sure everything was going smoothly through the entire process.The knife itself feels very sturdy, sharp, and is beautiful. it has a great weight and the leather sheath is beautifully made. I would highly recommend this knife at the price offered and if you ever see it on sale you should jump on it immediately.