BW1 - Wood Carving Blocks Set of Basswood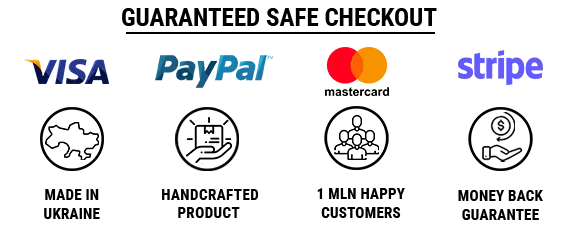 Dimensions:
1 piece

- 2.0 x 2.0 x 3.9 inches

4 pieces

- 1.0 x 1.0 x 3.9 inches
Get your hands on a high-quality whittling set and make your woodcarving process easy and effortless. The wood block set consist of 4 small carving blocks and 1 large wood block. The wood is soft basswood (linden). You can consider our wood block as a top quality whittling kit for beginners as well as for professionals. After carving the workpiece can be covered with paint, varnish or natural oil. The basswood carving blocks from BeaverCraftTools will be a great gift idea for your loved ones and friends that are into wood whittling! Get these great wooden blocks and create masterpieces!
In any hobby it is going to be important what it consists of. When you paint, you need to have proper canvas, paints and brushes. When you dance, you need to have comfortable shoes, a suit or a dress that fits the style and occasion, so on and so forth. With whittling it's no different - quality instruments and wood material, stropping things, a comfortable place to carve, you name it. That's what makes answering the question of "Where to get basswood for carving?" important. You may not stop on choosing basswood blocks as your final result, surely, however, it will be one of the most appropriate options for newbies for a bunch of reasons that will be described below. Such a kit of 5 wood carving blocks will become a nice gift for yourself, a friend or loved one that enjoys carving or wouldn't mind taking up a new hobby, maybe for a friendly neighbour you've met. That doesn't change the fact - this set may become a reliable and stable basis for somebody to learn whittling and start experimenting with wood and instruments. Softwood in general and basswood particularly is a great way to dive into this since it allows for easier introduction and approach so won't scare anybody off with its possible difficulty.

Wood blocks for carving: why choose basswood?
Carving blocks that you select as a beginner will influence the outcome of your newly taken up hobby quite significantly. Basswood for carving almost has no grain which makes it a perfect candidate for a learning carver - basically, the wood carving blocks of basswood don't give you resistance while you carve (not nearly as much as any other wood, at least). That's why softwoods are the priority, mostly, and basswood is the first choice you hear about. It's pale so you can be as creative as you like, paint it all the colors of rainbow and more and overall use your imagination to its fullest in order to get your project where you want it. It's not as easy with the dark woods, so if you'd like to use the wood as only the starting material to work on more and make it colourful - that's basswood, no doubt. It's also odorless and children-safe, so, basically, it's a material that can be made into gorgeous children toys, kitchenware and many other things that you'd much rather prefer to be safe, non-allergic and free to use anytime.
Where to buy basswood for carving?
Certainly here! This website allows you to order from BeaverCraft pretty much anything that we have in stock, including large basswood blockslike these. Yes, this is a set of 5 basswood pieces, one the biggest and four a little smaller. This way you'll be able to practice as much as you like and reach perfection with your carving without worrying about not having enough wood.  And why should you buy from BeaverCraft? All products and goods which are manufactured by BeaverCraft here in Ukraine (the biggest country of Europe, by the way) is meant to be and stay the face of the company that presents European class and level of goods that is usually expected by the customers anywhere in Europe and abroad. That's why we keep it our number one goal to only have the greatest materials presented and implemented in any of our instruments to not disappoint you at any time. So we have quite a nice answer to the "Where to buy basswood?" question, hopefully.
Large basswood blocks in one set
It can be unnerving sometimes to shop online simply because you can't touch what you're buying, feel it in your hands and to make sure that everything is well with the product. For that we recommend you reading the reviews on what we have online. On any platform where we place our products you can find an amount of reviews that were shared by other people, see more pictures of the goods and read the description again. That way you'll feel more comfortable while deciding what's good for you. You can also chat with other people on our pages in Facebook and Instagram to find out if any of them can give you a recommendation. 
With this BW1 kit you receive 5 pieces of basswood that are prepped for you to carve with, carefully and gently packaged and sent in order to bring you the most pleasure and joy while carving. Welcome to BeaverCraft and, hopefully, you'll enjoy it here!
Sinnvoller Kauf
Sehr schöne Blöcke, leicht zu bearbeiten (in meinem Fall für Sensorikmaterial) und kein unangenehmer Geruch. Bin zufrieden.
Steht JENGA in nix nach ...
und würde ich immer wieder kaufen. Haben die Steine jetzt 2 Jahre und die Kids und WIR spielen und stapeln sehr gerne. Uneingeschränkte Empfehlung. Top Qualität.
Easy carving
Like the sizes and the price. Beavercraft is a great company!
Husband loved it
My husband decided one day he wanted to wanted to start carving and wasn't sure what to start with. So I decided to get and find a small set of wood bricks for him to start with and I came across this particular set and thought it would be great. We got it in the mail really fast and it's the perfect size for small hands(which he has) and he started right away and absolutely loved it. Even I as a very small woman it worked for me too.
Exactly what I expected
The accuracy in the description for this was great. I got exactly what I expected and that is appreciated.
Much smaller than I thought but good for the child I ordered it for