BW10 - Set of Basswood Carving Blocks 10 pcs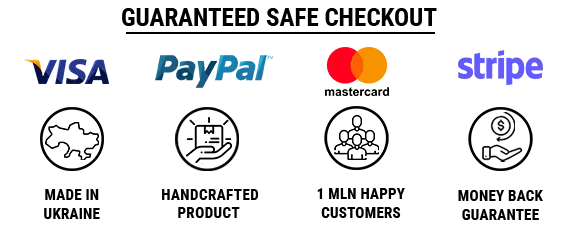 Extremely Soft

For All Skills Level

10 Wood Blocks for 10 Projects

Easy to Color & Easy to Use
Dimensions:
8 pieces – 2,5 cm х 2,5 cm х 15 cm (1.02" х 1.02" х 5.95")

2 pieces – 5 cm x 5 cm x 15 cm (1.98" х 1.98" х 5.95")
Unveiling the BW10 Set of Basswood Carving Blocks, an amazing wood collection by BeaverCraft that will ignite your passion for woodcarving. Crafted from the finest basswood, renowned for its exceptional qualities, these blocks embody excellence in every aspect.
This comprehensive set includes ten wood blocks in various sizes, catering to carvers of all skill levels. With two larger carving blocks measuring 2" x 2" x 6" and eight whittling blocks sized 1" x 1" x 6", this versatile assortment ensures you have the perfect canvas for your artistic visions.
Experience the joy of carving with these flawless blocks. Each piece has been meticulously sanded to perfection, boasting a smooth and uniform texture that allows your tools to carve wood effortlessly. These wood blocks have no knots, cracks, or imperfections and provide an enjoyable and uninterrupted carving experience, enabling you to bring your ideas to life with precision and finesse.
Safety and user-friendliness are paramount, and these basswood blocks deliver on both fronts. You can carve confidently, knowing that the wood is free from any obstacles that could hinder your creative process. The ideal surface ensures a clean cut, allowing you to achieve intricate details and a polished finish.
Let your imagination soar as you explore the boundless potential of these basswood carving blocks. Whether you're sculpting small figurines or embarking on ambitious projects, this set offers the ideal foundation for your artistic endeavors.


Starter carving
After watching a PBS episode of Craft in America 10 year old grandson was super interested in carving. He's been trying to use branches from local oak and alder trees we have and did make a few things but the basswood is much easier to work with. He's having a lot of fun with this and book we bought in the same style as the show we watched. The pieces are a on the small side but ok for dipping your toes in. We'll be searching for a good sources of pieces that are a bit larger.
Basswood for carvingm
Item was exactly as described and delivery was on time.
It is good for beginners!
I didn't like that they were such small pieces of wood
Für den Preis zum schnitzen gut
Da unsere Kids gerne mal schnitzen, haben wir es mit diesem Pack zu Weihnachten versucht.Geliefert werden große und kleine Blöcke an sauber geschnittenem Weichholz .Gerade für Kinderhände gut geeignet und einfach mit dem passendem Messer zu bearbeiten.Für die Mege an Hölzern geht der Preis von ~13€ in Ordnung. Qualität und Preis-Leistung passt hier.
Very easy wood to carve.
I very much enjoyed using this wood to carve, it was easy to cut and didn't cause to many burrs.
Was what I expected.
Beginning carving (wizards, Santa Claus and an owl.
As advertised.
The blocks were as presented. Nice material.
Came very fast
Smallish pieces, but they work great.