C1 - Small Whittling Knife

10 Years Guarantee
This product carries a 10 years guarantee from the original purchase date.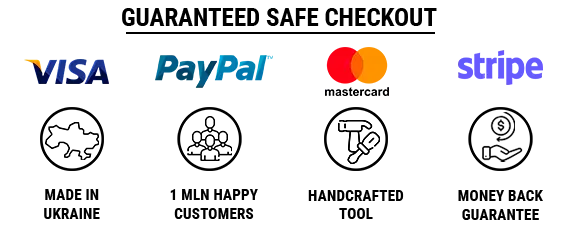 Total length - 165 mm (6.49 inches)
Blade length - 60 mm (2.36 inches)
Blade width - 15 mm (0.60 inches)
Handle length - 105 mm (4.13 inches)

A razor-sharp wood carving knife is great for whittling, general woodworking, and handicrafts. This whittling knife is the perfect tool for different wood carving projects. The knife is hand-made from high-carbon steel, hardened and well-sharpened. Sharpening the knife allows you to cut both soft and hardwood.
The knife handle is made from Ashwood, well-polished, and covered with natural linseed oil. It goes both for right- and left-handed.
Lovely carving knife
This is really a lovely little carving knife! I bought it because I wanted a knife with cured edge to reach the inner part of flat surfaces and it is really doing the jobb. Sharp right out of the nice box and keeping the shapness. I treat it a couple of times with linseed oil. Beautiful artwork, too! Keep up the good work!
Dear Stefan,
Thank you for your fantastic feedback! We're delighted to hear that you're enjoying your carving knife.
We will be happy to see you anytime again!
Wonderful Wood Cutting Knife
Bought this neat little knife to whittle my pencils for more lead, and it did the job with little to no force as it glided across the grain. It arrives protected in a slightly thick plastic sheath (though I would say to be careful).It's definitely helped make my drawing process smoother. I no longer have to struggle with a box cutter or breaking lead during the process again 😂
Great knife
It came very sharp, and cuts wonderful.It even came with a few bandaids.
Great
Knife works great for carving it's my fourth one
Parfait
Très Tranchant, bonne prise en mains .Le petit + du vendeur deux pansements dans la boite...Et vous savez quoi???j'ai utilisé un pansement des le lendemain car le couteau a traversé mon gant de protection de level 5 CE !Donc merci pour se petit + ,))))
Great knife use mine in my guitar shop
comes very sharp and ready to use.
Sharp and well made
Got this for my girlfriend so she would stop trying to whittle with my pocket knife. It seems to be very well made and I think it's worth more than what they're charging! Good stuff.
Great for beginners
Comes out of the box very sharp and ready to use. For a beginner like myself, it's very budget friendly without being flimsy or cheap quality. Is it the best knife in the world? no. But at this price point, it's a great way to get someone into the hobby of whittling.
Calidad
De lo mejor para el precio que tiene