C17P – Universal Detail Pro Knife with Palm Handle
$21.99
$15.00
Sale ends on ,

10 Years Guarantee
This product carries a 10 years guarantee from the original purchase date.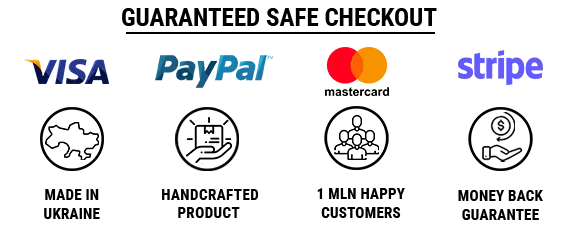 If there is one thing that any woodcarver needs, it is a multifunctional BeaverCraft C17P Universal Wood Carving Knife. It is a super-quality cutting tool with no limits. It has high performance and can handle countless woodworking tasks.
It is lightweight, compact, handy, and suitable for many whittling projects. It is equally comfortable to work with soft and hardwoods, give the wood carving initial shapes, and remove thin layers of wood. The BeaverCraft C17P woodworking knife is ideal for carving round shapes. Thanks to the custom design of the cutting part, it goes well for rough work and can cope with rather delicate tasks of carving tiny details.
You don't have to worry about constantly sharpening your BeaverCraft tools. Our versatile C17P wood carving knife and all other tools are razor sharp. All you need to do is take it out of the box and enjoy the pleasures of woodcarving to the fullest.
Specifications:
Total length – 165 mm (6.49 inches)

Blade length – 40 mm (1.57 inches)

Blade width – 12 mm (0.47 inches)

Handle length – 65 mm (2.56 inches)
good tool
Someone with small hands would probably not like this as much as I do. It is what you would expect from Beaver Craft. A well made tool and needs very little sharpening before using. I am a great fan of Beaver Craft.
The quality looks great. Made in Ukraine . Delivery was fast. One day!
I'm a beginner at wood carving so it's going to take a while to master using it. I think it is a worth while addition to my carving tools.
Handy
I bought this to try out a newer style of knife. The palm grip has a flat side which makes it very comfortable for full hand holding. The length of the blade requires me to "choke" up on the tang. I like Beavercraft tools, I typically stick a higher quality knife but Beavercraft is a great beginner to intermediate knife. Honestly, for the money the edge stays sharp with a Rockwell Hardness of 60-62 puts it in the same edge retention with Helvie, OCCT, Or Pfiel. These are higher end knives with same edge retention.Beavercraft is a reliable knife the deserved to be mentioned with the best for edge retention and above average quality.
Comfortable
This knife is very comfortable to hold and shave small cuts easily. Come quite sharp for out of the box use.
Outil très utile pour la sculpture sur bois
Lame polie et tranchante comme une lame de rasoir.Grâce à sa pointe très pointue, on peut sculpter dans le détail .
Great value for the money.
The knife is a little large for my small hand.
Beautiful Tool
The BeaverCraft C17P carving knife is a beautiful tool. The tool itself is as advertised. It fits comfortably in my hand and the blade is razor sharp out of the box. The handle has one flat side so it will not roll around on the bench or table. Delivery was on time as described. This tool is a great value for a very reasonable price.
Out-of-the-box sharp
Great product at great price. Helpful tutorials. Blades come sharp and sharpen easily. Great!
Good quality, pre-sharpened knife
The handle and blade are nicely fitted making for a very solid tool. The blade came pre-sharpened. They are so confident that their blade is sharp that they packed a couple of bandaids in the box with the knife. When you make a purchase with them, they provide a lot of extra value-added bits, such as free downloadable designs and tutorials. I recommend this company. I'm also happy they are based on the Ukraine. Its important to support that nation.