C4 – Whittling Sloyd Knife
$19.55
$13.00
Sale ends on ,

10 Years Guarantee
This product carries a 10 years guarantee from the original purchase date.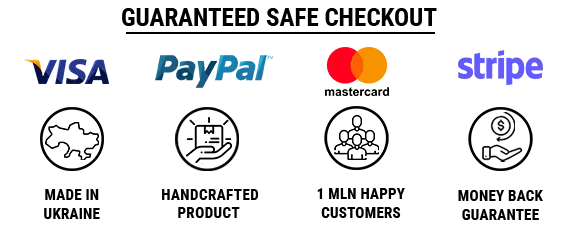 This knife is designed for wood cutting and roughing wood out. It earns its name from the Swedish "sloyd" woodworking tradition, emphasizing craftsmanship and efficiency. Whether you're working with soft or hardwoods, this knife excels in various wood carving techniques. Its straight blade and durable tip for heavier stock removal make it an ideal tool for whittling and carving wood.
The blade, crafted from high-carbon steel, is well-sharpened, guaranteeing effortless and precise cuts. The handle, made from oak wood and coated with natural linseed oil, provides a comfortable and secure grip. The ergonomic design ensures a pleasant feel in your hand, making extended carving sessions fatigue-free.
Versatility is a hallmark of the C4 whittling knife, as it caters to both right- and left-handed users. This ambidextrous design allows craftsmen of all preferences to discover the full potential of this exceptional tool without compromise.
Whether you are a beginner embarking on your first carving project or a seasoned artisan seeking a reliable tool for intricate handiwork and crafts, this knife is tailored to meet your needs.
Specifications:
Total length 

–

200 mm (7.87 inches)
Blade length

–

80 mm (3.14 inches)
Blade width 

–

17 mm (0.66 inches)
Handle length 

–

120 mm (4.72 inches)
Wonderful Wood Cutting Knife
Bought this neat little knife to whittle my pencils for more lead, and it did the job with little to no force as it glided across the grain. It arrives protected in a slightly thick plastic sheath (though I would say to be careful).It's definitely helped make my drawing process smoother. I no longer have to struggle with a box cutter or breaking lead during the process again 😂
Great
Knife works great for carving it's my fourth one
Parfait
Très Tranchant, bonne prise en mains .Le petit + du vendeur deux pansements dans la boite...Et vous savez quoi???j'ai utilisé un pansement des le lendemain car le couteau a traversé mon gant de protection de level 5 CE !Donc merci pour se petit + ,))))
Sharp and well made
Got this for my girlfriend so she would stop trying to whittle with my pocket knife. It seems to be very well made and I think it's worth more than what they're charging! Good stuff.
Great for beginners
Comes out of the box very sharp and ready to use. For a beginner like myself, it's very budget friendly without being flimsy or cheap quality. Is it the best knife in the world? no. But at this price point, it's a great way to get someone into the hobby of whittling.
Calidad
De lo mejor para el precio que tiene
Good knife for beginners but can be difficult to use.
For the price this was a good knife for someone newer to carving. Large blade makes taking large amounts of wood off easy but like most store bought knives you will want to sharpen first to get the most out of it.
super messer für den anfang
Ich bin begeistert von dem BeaverCraft C4 Schnitzwerkzeug für Holzbearbeitung. Es ist aus kohlenstoffreichem Stahl und perfekt für Anfänger wie meinen Sohn.Das Werkzeug ist sehr ergonomisch und liegt gut in der Hand. Mein Sohn hat keine Schwierigkeiten gehabt, es zu benutzen und es hat ihm viel Spaß gemacht. Er konnte damit einfach Muster in das Holz schnitzen und hat schnell Fortschritte gemacht.Ich habe auch festgestellt, dass das Werkzeug von guter Qualität ist und lange hält. Es ist sehr scharf und schnitzt das Holz mühelos. Auch die Verpackung ist von guter Qualität und sichert das Werkzeug gut.Insgesamt bin ich sehr zufrieden mit dem BeaverCraft C4 Schnitzwerkzeug und würde es auf jeden Fall weiterempfehlen. Es ist perfekt für Anfänger und von guter Qualität.