C4S - Whittling Knife with leather sheath

10 Years Guarantee
This product carries a 10 years guarantee from the original purchase date.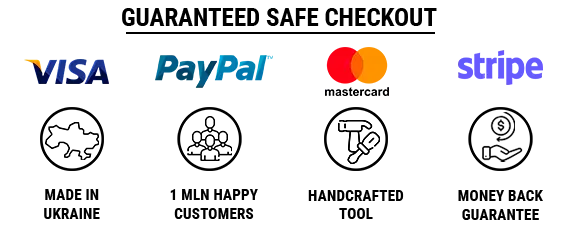 This whittling set includes:
A sloyd knife
The leather sheath to keep your knife protected.
Nothing lifts a woodcarver's spirit like a newly acquired tool. The BeaverCraft C4s Sloyd Knife is a woodcarving knife that draws on years of tradition and experience from the BeaverCraft design team. It provides confidence in its simplest form and clean lines, making it a versatile, durable, and safe knife in the hands of the experienced woodcarver, DIYer, or person who has discovered a new hobby in the form of woodcarving.
The knife is of the highest quality, practical, and reliable. It is made in the laconic for whittling knives design traditional and is a convenient and functional wood carving tool intended for all types of woodworking.
The reliable blade is complemented by a beautiful handle made of solid hardwood oak, covered with natural linseed oil, and comes with a leather sheath that will protect your wood carving tool from damage. The sheath is made from genuine cowhide leather in a pleasant brown color.
Using this BeaverCraft premium-quality C4s sloyd knife, you can easily use it for wood carving, cutting, and roughing wood. The blade has a thin point, which is ideal for the delicate carving of wood and works on narrow parts.
Parfait !
Coupe tres tres bien! Attention aux doigts 😛
Good Steel and RAZOR sharp
I have several carving knives but I just did't have a sloyd knife, so I bought this one. The fit and finish are quite good. The handle comes smooth but unfinished so I sealed mine in Danish Oil. Handle has a nice palm swell to it. Blade is High Carbon Steel and comes razor sharp. Get yourself a strop to keep the blade in top condition. Knife is lightweight, but capable of doing a lot of roughing work (shaping). Leather Sheath is top notch too and well stitched. Company also included 2 bandaids which I thought was very thoughtful. Price is very good for what you get, and like all good wood carving knives, the blade is a Scandi grind.
BeaverCraft tools are well designed and a pleasure to use. Made with craft and skill in Ukraine.
Well made and a great value.
Je l'aime beaucoup pour faire mes cuillères
Faire des cuillères et sculpture
good, sharp starting knife and great customer support
The knife is pretty sharp I'd say. If you pull the knife towards yourself a little bit, you can easily cut through a sheet of paper. However, my blade got a little dull by now and I need to sharpen it.In the pictures you can see two little pieces I carved already, so you can estimate how long and how much I've been using the knife for. The owl and the prototype fish are both from one block of wood shown in the picture with the fish. Sadly the owl is already given away, so I can't show it with the block for reference. The block is also from BeaverCraft. It's soft basswood, 5x5x15cm (2x2x6 inches). By now the blade is little fuller than before and I can't cut through paper as easily.IN CONCLUSION:The knife is very good for starters and the price-performance ratio is amazing. Also, the customer support is just impeccable, so nothing to worry about there.If you're starting out with whittling, I would highly recommend some cut-proof gloves, because they make the work just soo much easier and more pleasant.
Outstanding
Love this knife…. Had to shave a better grip,, it fits like a glove in my hand now…. Outstanding blade…
Prretty good for the price
It was not that sharp when i get it, but after a few slides on the sharpener it works pretty damn good. No need to buy expensives ones for 100 bucks. For me it works fine. (Spoons and kuksas)
nice knife for the price!
I am just starting to get into wood carving and this is a great little knife.