DIY06 - Santa Carving Kit - Complete Starter Whittling Kit for Beginners, Adults, Teens, and Kids
$59.99
$49.99
Sale ends on ,

10 Years Guarantee
This product carries a 10 years guarantee from the original purchase date.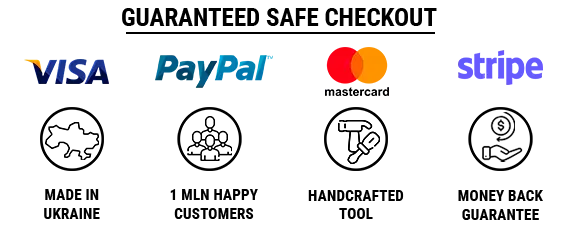 Original holiday gift idea for woodcarvers
All-in-one DIY craft kit with everything you need to carve Santa Claus out of wood
Versatile wood carving tools set to practice and hone wood carving skills
Go-to choice for beginners and entry-level carvers
Family-friendly fun for adults, teens, and kids
Winter is coming, so it's time to start preparing for Christmas – the most magical time of the year. It's the time of year for Santa Claus, fairy lights, homemade holiday decorations, and all the delicious dishes.
Perhaps it's too early to decorate a Christmas tree in November, but it's already possible to plunge yourself into a cozy atmosphere of the upcoming holiday and magic. So, let's get crafty with our brand-new DIY06 Santa Carving Kit! This cute Santa Carving is the perfect DIY project to set a festive mood at home this Christmas. If you like to make your own Christmas mood around, this starter whittling hobby kit will be sure to impress. Get the whole family involved: DIY crafts will help to entertain your loved ones, bond with your kids, and become part of a new tradition.
The result of DIY carving projects largely depends on your wood carving toolkit. Thanks to our all-in-one DIY06 Santa Carving Kit, you get all the tools, materials, and supplies you need for carving Santa Claus out of wood: a perfectly sharpened wood carving knife, two blocks of high-quality basswood, sharpening accessories (honing strop + polishing compound), protective no-cut tape, and art supplies (pencil, brush, and paint) to give your Santa DIY project a unique finished look.
Also, the starter carving kit includes a booklet with clear instructions and a video tutorial illustrating all the carving processes step by step. All carving set elements are made and prepared to make your woodcarving session easy, pleasant and fun.
This Santa Carving Kit is the perfect art craft kit for DIY enthusiasts of all ages and genders – adults, teens, kids, men, and women. It will help create an exciting beginner wood carving project that will become a cute toy for children, a beautiful kids' room decor, and an easy DIY wooden Christmas tree decoration.
Anything made by hand is unique and therefore has exceptional value. Our new DIY06 Santa Starter Kit allows you to create like a pro from the comfort of your home and get you and your loved ones into a 100% Christmas mood.
What does this wood carving kit include?
C16 Big Roughing Knife
2 Blanks of Basswood
Leather Strop for Sharpening + Polishing Compound
Safety Tape
Santa Pattern
Pencil
Brush
Paint Booklet
Band-Aid
Video Tutorial Sent by Email
Great!
Admittedly, my Santa looks more like a Parolee.
Great gift for dad!
I couldn't figure out what to get my dad for Christmas. He was so excited about this! He opened it immediately and started carving. Great for beginners!
Very nice Santa carving kit
The Santa kit has everything you need. Has two blocks which is perfect as I will probably screw one up. Great kit!
A lovely and perfect gift set for any wood worker!
I'd received this product a few days ago and what a lovely set it is for an amazing price. The knife alone often costs as much from comparable brands and yet this set contains such high quality strop, blanks and accessories! Over all super pleased and you can get knife extremely sharp if you check out some YouTube videos but also the knife comes pretty sharp to begin with.Super please and would highly recommend to anyone looking to get started in wood carving. This is a very wholesome set :)
Santa Project
My nephew is getting into woodcarving and whittling. I am going to present him with this gift for Christmas in hopes that he continues to be excited about woodcarving and elevating his skills.
Wonderful gift set!
This set has everything needed to carve a really fun Christmas project (two Santas)! Great for a beginner or a more experienced carver. The knife is well-made and comes very sharp. The instructions are good, and included materials are very nice quality. You can literally open the box and start your project immediately. I feel good about doing business with this small company in Ukraine. I will definitely get a couple more as gifts!
Perfect Gift!
Love this company as they have good quality tools for a very competitive price. This kit comes with all that you need, and each kit even provides a link to a video that give you the instructions on how to carve, which is super helpful if you're a visual learner like myself. Super easy to pick up as a craft, it's something very unique to give as a gift!
Perfect for beginners! Has everything you need!
The Santa carving kit is great! It comes with every single thing needed to complete the project all the way down to bandaids 👏🏻😂 I absolutely love it and cannot wait to carve!
Needed for a rainy day
I do a lot of large carvings, and was looking for something to do indoors on a bad weather day. BeaverCraft had just the thing. All in one kit. Easy to carve, and in my opinion great for beginners to start, or experienced to just have a fun carve. Would highly recommend for any one. It's addictive! Merry Christmas!