LS1P1 - Dual-Sided Leather Paddle Strop with P1 Polishing Compound
$30.00
$26.99
Sale ends on ,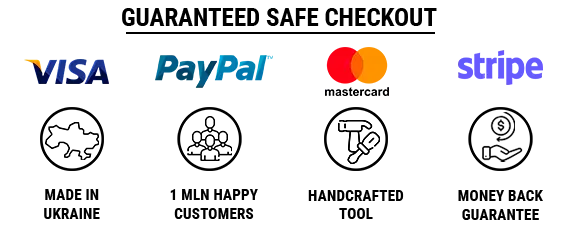 Total length

– 380 mm (14.96 inches)

Length of the leatherworking part

– 230 mm (9.05 inches)

Working width of the leather

– 80 mm (3.14 inches)

Thickness of the strop

-  20 mm (0.7 inches)

Base material

– Ashwood
Double-sided leather sharpening strop with green-grey polishing compound will make your knives sharp again. The leather paddle strop is the ideal tool for doing the sharpening jobs and great for keeping kitchen knives, razors, dagger, woodcarving knives and leather cutting tools at maximum sharpness. Well-made and sturdy, the straight razor strop is pleasant and comfortable to use.
This leather strop has two pieces of leather on both sides. A board with a strip of leather is also used for honing and polishing. The base is hand-made of ashwood, firm and smooth, covered with linseed oil. Use the knife sharpener with the wood handle to put the final edge on all your knives, and make your chisel sharp again.  The green-gray polishing compound goes with the strop as a set. 
Shop Now!
You are most likely aware: keeping your whittling utensils on their best cutting edge is one of the most essential things in whittling, in a row with proper instruments and quality wood to use. If you don't want to change your instruments more often than required and want to omit unnecessary injuries and traumas, you'll take care of the tools that you carve with. You'll ensure that they are carving sharp at all times before you start whittling for the day, in the process of it and after finishing. Caring for them will be greatly important to guarantee you an enjoyable time in the workshop. That's why having a leather paddle as an assistant would be quite smart of you. The shaft is comfortable and specifically created so you could enjoy working using a leather strop sharpening utensil anywhere at any moment. It has two parts for you to try out to achieve several goals that will lead to a couple of various results with instruments. 
Leather paddle manufacturing
All products and goods which are manufactured by BeaverCraft here in Ukraine (the biggest country of Europe, by the way) is meant to be and stay the face of the company that presents European class and level of goods that is usually expected by the customers anywhere in Europe and abroad. That's why we keep it our number one goal to only have the greatest materials presented and implemented in any of our instruments to not disappoint you at any time.
The base of this
paddle strop
is made out of ash wood material, with a properly shaped shaft and comfortable weight. It will ensure an enjoyable process for you while honing the instruments with two sides of the cowhide genuine leather used in manufacturing of this
leather strop for sale
. The smooth side can be used with a polishing paste that is also packaged with the strop whereas the rough side can be used without it to get rid of the residue on the blade.

Paddle strop as a necessary tool
There are countless ways and instruments that will help you maintain the sharpness and smoothness of your tools. The choice is yours, surely: you can grab a paddle, a leather stripe like in a barbershop, a stone, a felt or leather wheel - so on and so forth. No one can decide for you what is more convenient to use, so the best advice here would be to try all of those things one by one to figure out which is the most effective and enjoyable for you.
Stropping your tools is a very routine procedure, to be frank. It's not something you do once a month when you need a break from carving or work. You'll do it regularly, that's why having a proper base to do it that will be effective and not boring or exhausting to you is quite influential.

BeaverCraft leather strop for sale
Here in BeaverCraft we think of your experience when you carve. We've got quite a lot of various things to help you start and continue carving with inspiration, joy and pleasure. These accessories for improving your tools' state are one of them. Get a dual-sided sharpening paddle together with a piece of polishing compound to make the tools more shiny and sharp so that the wood feels like butter when you cut through it. Enjoy the process later when you get your instruments ready using our accessories!
Skin in the game
Well constructed, premium material. I am lappy happy.
Bon produit.
Affinage d'affutage de couteaux.
Learn how to use this product.
Once you learn how to use it is a like.
Okay Strop - With Quality Control issues
The strop is nice, however, there are a few issues:1) The polish that comes with it are gray instead of the green in the advertisement.2) The strop lack quality control (could be storage, but there wasn't any holes in the packaging) - the leather got some dents.
Just works great!
makes knives shaving sharp.
Good Quality
It's a good quality leather strop. It's double sided, which is nice. The leather is good. The compound is useless because it needs a certain temperature to keep.Initially I a problem with the basic strop, but BeaverCraft contacted me and made it right. So customer service is also very good.
One side of the strop has a hard lump making it unusable.
UPDATED: BeaverCraft contacted me and helped me sort out the issue. They sent me a new strop and it does not have the issue the first one had. I haven't had a chance to try more than one knife, but it worked well.
Excellent paddle strop
Nice ash wood paddle. Large stropping surface.
Strrop
Keeping my wood carving knives sharp