S-AX1/AX2 - 2-In-1 Leather Hatchet Adze Holder Holster With Belt Loops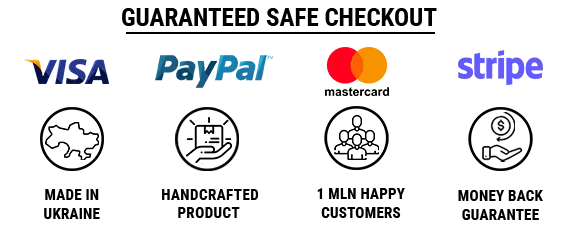 Get ready to conquer your craft with the S-AX1/AX2 Heavy Duty Leather Holder 2-in-1 for Hatchet and Adze from BeaverCraft. Organization and style in one stunning package.
Crafted from exquisite Crazy Horse leather in a deep brown, this universal tool holder is more than just a storage solution; it's a performance enhancer. It will not only turn your workspace into an oasis of order but also streamline your efficiency, eliminating the time wasted on fumbling for tools. With everything at your fingertips, you can seamlessly switch between tools in seconds, allowing your creativity to flow uninterrupted.
Designed to securely cradle your cherished tools, such as hatchets, adzes, axes, and more, this heavy-duty two-in-one tool holder offers unparalleled durability and convenience. With its smartly designed belt loops, you can effortlessly wear it on your waist, ensuring your two most essential tools are always within arm's reach when inspiration strikes.
But that's not all; this leather tool holder boasts an ingenious design with two eyelets that allow for easy wall hanging. Transform your tools into an artistic display that showcases your dedication to your craft and helps your workshop look like a professional and well-organized hub.
Craftsmen, DIY enthusiasts, and artisans alike will appreciate the thoughtful construction of this leather holder, which not only ensures the safety and accessibility of your gear but also adds a touch of elegance to your workspace, making every task a delight.