S11 - Hook Knife Set of 4 Tools

10 Years Guarantee
This product carries a 10 years guarantee from the original purchase date.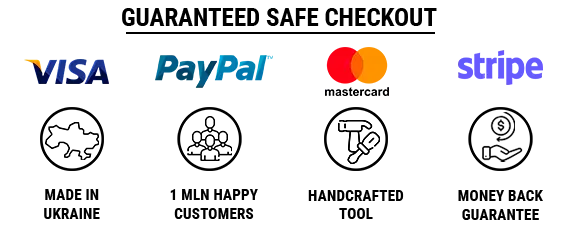 Would you like to try spoon carving? If your answer is yes, then our BeaverCraft S11 Hook Knife Set of 4 Tools will help bring your idea to life. Using these custom hooked tools, you can round out and make detailed cuts on your carvings. 
Carving spoons out of wood is a great hobby. It allows you to create unique utensils that you can use in your own kitchen. To keep spoon carving simple and fun, use our BeaverCraft S11 hook knife set. It will turn any creative process into a real pleasure.
Convenient and razor-sharp spoon carving knives will allow you to process wood of any hardness.
These durable tools will help you dig deep in spoon, kuksa, bowl, cup, or any other carving requiring rounded features. Due to the unusual shape of these tools, you can carve with them in the most inaccessible places. And this canvas roll-up case will become the perfect storage solution for your spoon carving knives. It will protect your woodcarving tools, ensuring their long-term use.
SK1 - Spoon Carving Knife 25 mm
Total length

- 155 mm (6.10 inches)

Handle length

- 105 mm (4.13 inches)

Rounding diameter

- 25 mm (1 inch)
SK2 - Spoon Carving Knife 30 mm
Total length

- 170 mm (6.69 inches)

Handle length

- 105 mm (4.13 inches)

Rounding diameter

- 30 mm (1,18 inch)
SK2Long – Spoon Carving Knife with Long Handle
Total length -  365 mm (14.37 inch)

Handle length

- 300 mm (11.81 inches)

Rounding diameter

- 30 mm (1,18 inch)
SK3Long – Large Spoon Carving Knife
Handle length

- 300 mm (11.81 inches)

Blade length

- 105 mm (4.13 inches)

Rounding diameter

- 90 mm (3.54 inches)
Getting one
hook knife
for creating concaves and round elements is already a nice purchase, no doubt. But getting 4 in a set? That's the greatest spoon/bowl/kuksa/concave carving set you'll find. Able to create bigger and smaller cuts, it will give you the opportunity to diversify your kitchen utensils projects (or any other, at that) and make different sizes of all types of things you wish to carve. Some of them can be used with two hands and some with one, so that also allows you to try a couple of approaches when you carve to not tire your hands out that much.
Hook knife materials and knife with hook
All the products and goods that are made by BeaverCraft here in Ukraine (the biggest country of Europe, by the way) is meant to be and stay the face of the company that presents European class and level of goods that is usually expected by the customers anywhere in Europe and abroad. That's why we keep it our number one goal to only have the greatest materials presented and implemented in any of our instruments to not disappoint you at any time.
The blades are made of the steel high-carbon steel that results in a tougher instrument that is able to work with hard and soft woods equally easily, is easier to strop and keep sharp because of its traits and is overall an optimal material for wood working tools. The shafts are light, made with wood and finished with oil for preservation and protection of the handle. Their shapes are well thought through and won't bring you any unnecessary discomfort more than the one that you experience after working for a long period of time. Don't forget to exercise your hands and stretch once in a while when you carve!

Hook knife carving advantages
These are the instruments that will be of great use to you anytime you wish to create a concave shape, a spoon ladle, a bowl or cup or simply a round element on the carving. With them it's much easier to create such a thing than with a simple carving knife, for sure, or even with a straight chisel. Hooks are specifically designed for making concave carving immensely easier. Try
hook knife carving
with BeaverCraft!

Using hook knives
Hook knife set
is a great tool to use if you are up to carving some kitchen utensils like cups, spoons or bowls. It's also a very practical instrument for any concave shape that you want to decorate your carving with. So it creates scoops of wood that you want to remove. With it you'll comfortably create the needed thickness and shape of a spoon ladle, bowl plate or a cup. More information about how to use a hook knife you can find in our YouTube tutorials.
Very good price quality! Quick delivery from Ukrain, top pakkaging. I recommend this article and Beaver.
I bought these as a gift for my brother. They arrived in a timely manner. I love the shape of the gouge and seeing as how I also carve I will be getting one for myself soon. They seem well made and lovely.
Sehen schon sehr gut aus mal sehen wie sie sich bei der Arbeit schlagen
awesome stuff. lost some skin they are so sharp
Great item, delivered on time.
Genial Fantastisch Einfach nur super
Really great quality tools. I hadn't realised when I ordered that the seller was in Ukraine so they took a while to arrive, for obvious reasons, but I'm really impressed
herramientas de calidad. Buena comunicación con el vendedor.
Sharp, sturdy, beautiful and larger than I expected. I'm over the moon with these carving tools, they're wonderful!
I am absolutely in love with every carving tool I have received from Beaver Craft. They are razor sharp and beautifully made. They make me a better carver. They certainly make my work look more professional. Thank you Beaver Craft. Will absolutely buy from them again.