S13 - Wood Carving Tool Set for Spoon Carving

10 Years Guarantee
This product carries a 10 years guarantee from the original purchase date.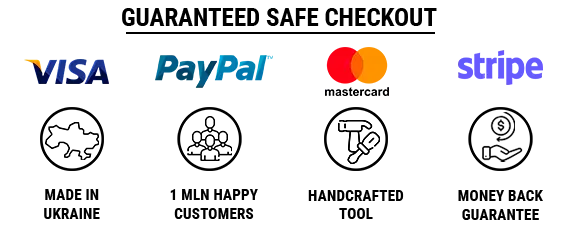 Comes with a leather strop and green-grey polishing compound

A tool roll is included

This set is designed for general, spoon, and detail carving
Traditional wooden spoon carving is a craft that can become a great hobby and even an extra income. The carving of spoons is the first step in mastering sculptural carving. Having learned how to carve wooden spoons, you can easily switch to wood carving more complex projects – animal and human figures, toys, and interior accessories.
Wooden spoons can be used both for their intended purpose as an environmentally friendly and safe item of utensils and as a decorative element in any living room or kitchen in modern or traditional style.
But, no matter how strong is your desire to carve a spoon out of wood, it is impossible to do it only with the help of a whittling knife. If you want to make this wood carving process smooth and enjoyable, your reliable solution is our versatile BeaverCraft S13 wood spoon-making kit. It has specialized tools for carving bowls, kuksas, and similar designs – a spoon carving knife (a hooked blade tool), a multi-tasking sloyd knife, and a chip carving knife. In addition to cutting tools, you will find all the related wood carving essentials for sharpening and honing.
Tools from the BeaverCraft S13 whittling kit are characterized by excellent quality and reliability, as our production team tests them in several stages. We check the alloy for casting knife blades during the production process, and then we re-check the finished models of wood carving knives. We always test our tools for strength, metal density, wear resistance, and other parameters. It ensures compliance with high European standards and strengthens wood carvers' confidence in our products.


SK1 - Spoon Carving Knife 25 mm
Total length

- 155 mm (6.10 inches)

Handle length

- 105 mm (4.13 inches)

Rounding diameter

- 25 mm (1 inch)
C4m - Whittling Knife
Total length

— 185 mm (7.28 inches)

Blade length

— 80 mm (3.14 inches)

Blade width

— 17 mm (0.66 inches)

Handle length

— 105 mm (4.13 inches)
C8 - Detail Knife
Total length

– 165 mm (6.49 inches)

Length of the cutting edge

– 35 mm (1.37 inches)

Handle length

– 125 mm (4.92 inches)
LS2 - Honing Strop
Length:

200 mm (7.87 inches)

Width:

75 mm (2.95 inches)

Thickness:

4-5 mm (0.16-0.2 inch)
Such a spoon making kit will be convenient to use, easy to transport anywhere you'd like to carve that time of day and comfortable to carve with due to the quality and level of the tools. We care about your experience - you can watch the videos of using the tools if you'd like a demonstration. The canvas pouch they come in is of a tough canvas that is not easy to rip with a sharp blade, it's not heavy and easy to fold so that makes the tool set organised and very portable.
Spoon carving tools reviews to help you decide
It can be unnerving sometimes to shop online simply because you can't touch what you're buying, feel it in your hands and to make sure that everything is well with the product. For that we recommend you reading the spoon carving tools reviews that we have online! On any platform where we place our products you can find an amount of reviews that were shared by other people, see more pictures of the goods and read the description again. That way you'll feel more comfortable while deciding what's good for you. You can also chat with other people on our pages in Facebook and Instagram to find out if any of them can give you a recommendation. Welcome to BeaverCraft!
Spoon making kit materials
All the products and goods that are made by BeaverCraft here in Ukraine (the biggest country of Europe, by the way) is meant to be and stay the face of the company that presents European class and level of goods that is usually expected by the customers anywhere in Europe and abroad. That's why we keep it our number one goal to only have the greatest materials presented and implemented in any of our instruments to not disappoint you at any time.
The blades are made of the steel high-carbon steel that results in a tougher instrument that is able to work with hard and soft woods equally easily, is easier to strop and keep sharp because of its traits and is overall an optimal material for wood working tools. The shafts are light, made with wood and finished with oil for preservation and protection of the handle. Their shapes are well thought through and won't bring you any unnecessary discomfort more than the one that you experience after working for a long period of time. Don't forget to exercise your hands and stretch once in a while when you carve!
I just used it! And I love it! I totally recommend it! Wood carving is a great activity for mind and soul. Thank you Beaver Craft!
Buen producto. Buen material y buen filo. Muy satisfecho con la compra. Recomendable. Volveré a comprar más artículos, seguro.
Para iniciarse ideal
Calidad precio muy adecuada, repetiría la compra
Great set, fantastic customer service! (Updated..)
I wanted to try spoon carving, so I gave this set a try. Sharp out of the box and the included leather strop and compound made it easy to keep it that way. The included bandaid was a nice touch—I appreciated the implied reminder that "knives are sharp!" However, I still managed to cut myself several times, mostly little nicks from slight touches of knife to skin, but one almost bad enough to need stitches. As a beginner, I highly recommend getting cut-resistant gloves! I carved a few spoons out of some holly branches (NOT a good first choice for wood but it was what I had readily available) and a few figurines out of some recently acquired walnut branches (again quite hard but easier than holly). Now that I think of it, my wood choices were probably a primary reason I cut myself several times. Up until a few days ago, I'd only used the hook knife and the sloyd knife, which performed well for me. But when I tried to carve my latest figurine with the detail knife, the glue failed and the blade detached from the handle. I was not injured, but I was concerned with how to fix the tool (what type of glue, blade or wood prep, etc.). So I contacted BeaverCraft Customer Service to inquire how to fix it. Olena from BeaverCraft responded right away. She didn't even consider asking me to fix the tool, she just immediately shipped out a replacement tool. It arrived the next day, and it has been perfect. Great tools, fantastic Customer Service! Thanks Olena and BeaverCraft!!Edit: 1/23/2023: I had another slight issue with a tool, which was probably my own fault. But I mentioned it to Olena from BeaverCraft Customer Service and she IMMEDIATELY went out of her way AGAIN to make sure the issue was completely resolved. I just can't say enough good things about this company! They fully stand behind their tools and they are super-responsive to their customers! Their attitude is a breath of fresh air in a time when you often can't even contact many other companies—they just abandon their customers. Not BeaverCraft!! I could not have asked for a better customer care experience. You have earned me as a customer for life, Olena and BeaverCraft!! Now it's time for me to look for my next tool purchase from you. Thank you, again!!!
This was a great starter kit.
We bought this b/c it included a case. The kit actually came with an unexpected bonus of a roll of protective tape, which we appreciate. This will be a gift for a family member who wants to try carving spoons.
Good beginner set
Sharp and seem pretty solid but there are round gaps where the tang goes into the handles (round hole/flat tang). Pouch seems to have been an afterthought. Took about a day before it had holes in it from the knives.
Wooden handles & steel seem to be good.
Good value for the hobbies.
Fun
Got into woodworking and thought I'd give whittling a shot. I dont use them often, but they maintain a sharp edge. Super easy to sharpen with the included strop.
Solid first set
Got this set because I wanted to try my hand at whittling starting from zero. This has a good mix of tools for making basic shapes and the knives feel sturdy/durable. No complaints. Mostly I went for this over comparably priced sets because I thought supporting Ukrainian business was preferable to buying a Chinese knock off...
Stabiles Schnitzset
Echt ein gutes Schnitzset für kleines Geld. Perfekt für Anfänger, da alles enthalten ist, was man braucht. Die Messer sind auch gut scharf und halten ihre Schärfe echt gut. Echt perfekt für alle von Einsteiger bis Profi