S14 - Spoon Carving Set with Gouge

10 Years Guarantee
This product carries a 10 years guarantee from the original purchase date.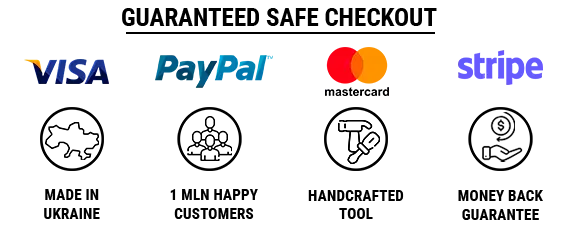 This set is designed for spoon carving
Perfect gift for woodcarving lovers
Suitable for beginners and professionals
Ready to use right out of the box
Weight - 0.3 kg
With a practical set of wood carving tools, your wood carving process will sparkle with bright colors, and carving spoons, kuksas, and other projects with fascinating designs will give you a new experience.
The set consists of a universal whittling knife, a spoon (hook) knife, and a long bent gouge. The blades are made of special, forged high-carbon steel that is the principal condition for precise sharpening and excellent cutting properties. These wood carving tools are suitable for various whittling tasks and carving techniques, and due to their unique shape, these knives are very comfortable to use.
The handles are made of durable oak in a pleasant natural color and are covered with linseed oil. With their ergonomic shape, they perfectly suit the structure of your palm. The thoughtful design and functionality of the knives in the BeaverCraft S14 whittling set make spoon carving a true pleasure.
This multi-functional carving tools kit can significantly complement your arsenal of woodworking tools and become an original gift for your friends fond of wood carving. Thanks to technological developments, the knives have excellent hardness and remarkable resilience. These two seemingly incompatible properties – maximum hardness and plasticity – make our knives set an indispensable assistant in the realization of the most sophisticated whittling ideas.
Great set, very well made. I'm new to carving but worked on my first spoon using these tools and it was awesome.
The quality of the tools is great. After I got them, I immediately carved a few spoons from a dry cherry and peach wood and i can easily say that those are excelent tools. I was in fact so pleased, that i made a second order for a different set of tools from their offer and i plan to acquire a few more. The tools come already razor sharp and ready to work. For someone who is searching for a price affordable hi quality tools, Beavercraft is a way to go.
Just pared down some cherry and cocobolo with the tools right out of the box. I've been at it for about an hour. All three tools are razor sharp, as I was able to shave some hair off my arm, and they kept a sharp edge til the end. Stropped the knife and it's back to razor sharp. If you know anything about cocobolo, it'll tear your tools up if they aren't good quality. These tools stood up to it like champs! Wonderful quality! Agonizing long wait due to being across an ocean. But, well worth the wait!! Thank you Beaver Craft!!
Ferramentas muito boas, exatamente conforme anunciado. Alta qualidade e muito bonitas, usei hoje mesmo
More great beaver carving tools
Great Set
I absolutely love this set and have made some amazing spoons with it. These handles are super comfortable and razor sharp. Absolutely love them. I highly recommend this set.
If you know nothing else about the company, they have a great sense of humor. :)
Got the tools today and they are sharp and ready to use out of the box. Also, there is something about getting tools that come with Band-Aids as part of the packaging. Put a smile on my face and made the purchase that much more enjoyable.