S17L - Extended Spoon and Whittle Knife Set (Left handed)

10 Years Guarantee
This product carries a 10 years guarantee from the original purchase date.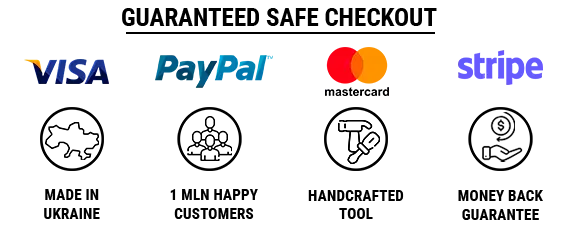 If you are into woodcarving, you will definitely appreciate this multipurpose wood carving tool set by BeaverCraft. Our left handed S17L extended whittling kit is a practical and functional knife set. It will become a reliable assistant for fans of wood carving, craft lovers, and hobby seekers.
Want to carve spoons, bowls, or cups? Are you looking for quality tools for whittling, roughing wood out, or delicate wood cutting? Our BeaverCraft S17L Extended Wood Carving Knife Set is up to the task. The instruments have a strict stylish design and are made of high-quality materials.
These knives have different blade shapes and perform precise and high-quality cuts. They are suitable for general and detail carving that requires extra care. The blades are made of premium high-carbon steel. It provides long-term sharpness of the cutting edge, and the ergonomic handle fits comfortably in your left hand. Thanks to its thoughtful design, it has anti-slip properties. A convenient toll roll-up case provides comfortable storage and transportation.
Dimensions: 
SK1L - Left Handed Spoon Carving Knife 25 mm
Total length - 155 mm (6.10 inches)

Handle length - 105 mm (4.13 inches)

Rounding diameter - 25 mm (1 inch)
C13 - Whittling Knife
Total length - 165 mm (6.5 inches)

Blade length - 60 mm (2.36 inches)

Handle length - 105 mm (4.13 inches)
C15 - Detail Wood Carving Knife
Total length - 155 mm (6.10 inches)

Blade length - 35 mm (1.37 inches)

Handle length - 115 mm (4.53 inches)
LS2 - Honing Strop:
Length - 180 mm (7.00 inches)

Width - 50 mm (2.00 inches)

Thickness - 3-4 mm (0.12-0.16 inch)
良い買い物をしました
今回、この商品を購入して本当に良かったと思います。現在、柿の木を材料にククサを作成していますが、柿の木は硬くて大変ですが、フックナイフの切れ味が箱だしでも、十分に削れますね。また作業が終わったあと、ストロッピングのみでメンテしてますが、切れ味が戻りますねー。カービングナイフも、握りやすく扱いやすいです。ホント、買って良かったと思える商品ですね。
Set intaglio del legno
Set ottimo per principianti ed avviarsi verso il magnifico mondo del carving
Great tools
Works great for spooning. I would recommend this brand for carving tools
Exactly what I hoped for!
First Time Carver
Bought this set to pass the time during 'campfire therapy'. Comfortable grip, highly transferable, sharp and comes with honing tools.
These are quality tools
I bought these tools for my 17 year old son for a birthday gift. He has dabbled in whittling and carving and these are a huge step up for him. He exclaimed as he carved on a wood block," Mom, this is like cutting butter!" He is SO pleased! I expect a new wooden spoon coming my way once he figures out the methods. 😉
Nice sharp set
Blades kept a nice sharp edge during my attempt to carve a spoon out of Cherry wood. I feel the handle could be bigger for a better grip though, but that's a minor issue.
Ottimo rapporto qualità-prezzo. Venditore e marca affidabili.
Good starter kit.
This kit is well put together. There is everything to complete a couple of spoons. It looks like fun.