S19L book - Spoon Carving Set of 4 Tools in a Book Case (left-handed)
$79.00
$63.20
Sale ends on ,

10 Years Guarantee
This product carries a 10 years guarantee from the original purchase date.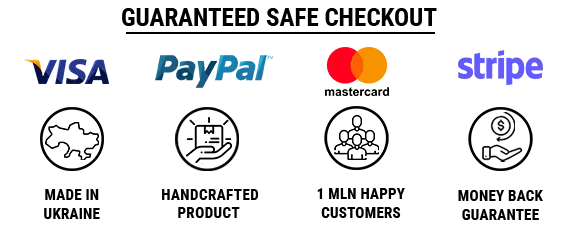 This is a left-handed set

Comes in a toolbox in form of a book

Suitable for beginners and professionals

Perfect gift for woodcarving lovers

Green-grey polishing compound and a leather strop are included
Are you looking for a present for someone who loves geometric woodcarving? Or do you like woodcarving and creatively packed items at the same time? If so, you are on the right page. This set of 4 knives would be perfect for beginners as well as for professional woodcarvers. And it goes in a gift package - a case in form of a book! It would be best for general woodcarving, and for detailed, simple work. The knives' handles material is Ashwood, soaked with linseed oil, which will last years. This is a left-handed set. 
What's more, all our tools are razor sharp and ready to use right out of the box and the blades are made of high-quality high-carbon steel. With our ergonomic handles, you will not feel fatigue in the hands and will be able to work for hours on your project. You will also get a black leather strop and a green-gray polishing compound, so you could keep your tools in a good condition. So what are you waiting for? Shop now!
Dimensions of the knives:
SK1L - Left Handed Spoon Carving Knife 25 mm
Total length – 155 mm (6.10 inches)

Rounding diameter – 25 mm (1 inch)

 Handle length – 105 mm (4.13 inches)

Handle material – Ashwood
C1 - Sloyd knife
Total length – 165 mm (6.49 inches)

Blade length – 60 mm (2.36 inches) Blade width – 15 mm (0.60 inches)

Handle length – 105 mm (4.13 inches)
C10s - Small Knife for Geometric Woodcarving
Total length – 135 mm (5.31 inches)

Width of the cutting edge – 30 mm (1.18 inches)

Handle length – 105 mm (4.13 inches)

Handle material – Ashwood
K8a/14 - Compact short bent gouge. Sweep №8 
Blade width – 14 mm (0.55 inches)

Total length – 192 mm (7.56 inches)

Blade length – 80 mm (3.15 inches)

Handle length – 115 mm (4.53 inches)
Magnifique ! Je suis ravi de mon achat. J'ai acheté le coffret cadeau avec 4 outils à bois. Les outils sont de très belles qualités et la boîte très soignée. Envoyé rapidement de l'Ukraine vers la France environ 15 jours. Merci beaucoup
Très belle qualité, matériel solide et durable
Worth the wait. Lovely simple set of tools. Good quality, nice in the hand and a great companion set to bring with to do a bit of carving away from the workshop.
Thank you for your service, the packet arrived today, well packed, good merchandise as described. Great service
Great purchase! I got one for both myself and my brother, and am about to get a 3rd for my dad. The knives came sharp and ready to use. I love the color and texture of the fabric for the case.
Great set of knives for carving, they look awesome and are well made. However, the curved knives are a bit on the dull side so I will have to sharpen these a bit myself. The delivery came when described which is also good. Although it does take awhile which is a shame. Overall, I'm very happy!
I am very pleased with my shopping. The carving knives I bought are really good. I tested them. There was a small error in my order. And they quickly ship the right product again. Shop in this shop and you will definitely be satisfied.
Great set, took a while to get here but understandably with covid. Thank you.
recu dans les délais et trés bien emballé. Pour le moment je me suis surtout servi du couteau à creuser et du couteau plat, la prise en main n'est pas evidente, mais le résultat est plutot satisfaisant. Les outils sont affutés. Je suis contente de mon achat.