S38 - Spoon Carving Kit Wood Carving Tools with Leather Strop

10 Years Guarantee
This product carries a 10 years guarantee from the original purchase date.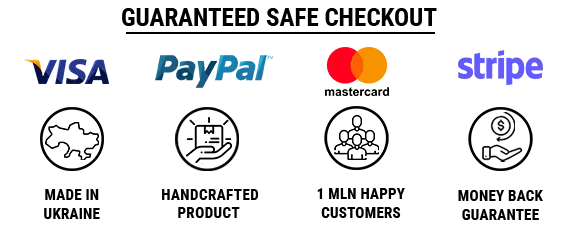 Perfect for carving rounded objects
A tool roll is included
The blades are made of high-quality carbon steel
Ergonomic handles will allow hours of comfortable woodworking
The most interesting do-it-yourself things are much simpler than it seems to inexperienced hand-made lovers. Wooden kitchen utensils (spoons, cups, and bowls) are chic and cozy, classic, and stylish. Self-made wooden spoons reflect the uniqueness of your taste, culture, and centuries-old traditions. Spoons carved from wood create a wonderful atmosphere and fill the interior of your home with comfort and particular style.
Making spoons at home is easy and fun. The main thing is to have the right high-quality wood carving tools. Becoming the owner of the BeaverCraft S38 Professional Spoon Carving Kit, you will discover great opportunities for creating interesting and beautiful whittling projects without difficulty.
Our mission is to constantly improve our quality and provide top-tier woodworking tools to all wood carving enthusiasts and professional carvers at the most affordable prices.
In our superb S38 wood carving tools set, you will find a versatile whittling knife, spoon carving knife, and compact short bent gouge. But that is not all. For easy storage and transportation while traveling, the set comes with a simple design canvas tool roll. It also includes a leather strop and a green-grey polishing compound to keep your tools in peak performance. Everything is done to provide you with an enjoyable and rewarding wood carving experience.
Dimensions of the tools:
SK1 – Spoon Carving Knife 25 mm
Total length – 155 mm (6.10 inches)

Rounding diameter – 25 mm (1 inch)

Handle length – 105 mm (4.13 inches)

Handle material – Ashwood
C1 – Small Whittling Knife
Total length – 165 mm (6.49 inches)

Blade length – 60 mm (2.36 inches)

Blade width – 15 mm (0.60 inches)

Handle length – 105 mm (4.13 inches)
K8a/14 – Compact short bent gouge. Sweep №8
Blade width – 14 mm (0.55 inches)

Total length – 192 mm (7.56 inches)

Blade length – 80 mm (3.15 inches)

Handle length – 115 mm (4.53 inches)
Excellent quality knife set, beautifully presented and super quick postage! Thank you so much, it made a fantastic Christmas gift which has already been put to good use!
Ravie, même si je me suis blessée ahah J'ai hâte de pouvoir reprendre mon activité ! Merci vos outils sont de grande qualité !
The gouge was damaged on arrival and seems a tad flimsy at the cutting edge, but the whittling knife and hook knife that came in the set are great.
Beautiful craftsmanship, presentation, and quality knives. This is going to be an amazing gift for my father who recently picked up the hobby. Thank you so much for fast shipping!!
Came super fast. The knives were incredibly sharp. I enjoy this set.
Very happy with these handmade tools. I gave them as a gift and the recipient was very happy. Well made and as described.
sharp! as a tack, in fact!
Excellent quality and amazingly fast shipping. We now have three sets of these beautiful tools and I happily recommend this shop!!!
This knife set is pleasing in every way, and a delight to use. I couldn't be happier. It also arrived surprisingly quickly. I will certainly purchase more from this shop. Thank you so much!
Set bought for husband's birthday, very pleased