S54 - Spoon Carving Set
$136.50
$114.99
Sale ends on ,

10 Years Guarantee
This product carries a 10 years guarantee from the original purchase date.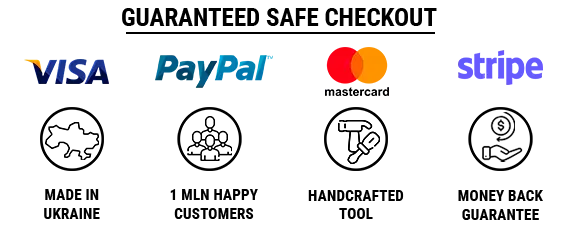 We are happy to present our new spoon carving set!
Have you seen our extended wood carving set BeaverCraft S54? It includes ten items of various purposes and makes it possible to master carving in different styles and techniques. This set saves you a lot of time and money by purchasing all these wood carving tools and sharpening accessories one by one.
This set of top-quality knives and chisels is the kind of wood carving toolkit that will become your indispensable assistant. Do you want to carve a spoon, create a wooden gift for your loved one, or make a board game for a group of friends? With our S54 Spoon Carving Set, you can realize dozens of simple and complex wood carving projects. Whatever idea you like, our tools will help make it a reality.
Carefully selected content of the set allows you to use the entire arsenal of tools effectively. If you are a creative person and like to try something new, or you are thinking about an original and memorable gift that will leave a lot of positive emotions, pay attention to the improved BeaverCraft S54 Spoon Carving Set. An extended range of tools will help with most of your woodworking tasks – from carving spoons to sculptural carving, sharpening chisels, or honing knives.
The dimensions of the tools:
C4 – Whittling Knife
Total length – 200 mm (7.87 inches)

Blade length – 80 mm (3.14 inches)

Blade width – 17 mm (0.66 inches)

Handle length – 120 mm (4.72 inches)
SK2Oak - Spoon Carving Knife 30 mm with Oak Handle
Total length – 195 mm (7.68 inches)

Rounding diameter – 30 mm (1.18 inch)

Handle length – 130 mm (5.12 inches)
SK4 - Open Curve Spoon Knife
Blade length – 60 mm (2.36 inches)

Handle length – 200 mm (7.87 inches)
SK5 - Spoon Carving Knife Deep Cut Bevels
Blade length – 85 mm (3.35 inches)

Handle length – 200 mm (7.87 inches)

Total length – 255 mm (10.04 inches)
K8a/14 - Compact short bent gouge. Sweep №8
Blade width – 14 mm (0.55 inches)

Total length – 192 mm (7.56 inches)

Blade length – 80 mm (3.15 inches)

Handle length – 115 mm (4.53 inches)
G7L/20 - Long Bent Gouge (20mm)
Total length – 285 mm (11.22 inches)

Blade length – 130 mm (5.12 inches)

Blade width – 22 mm (0.87 inches)

Handle length – 155 mm (6.10 inches)
Shipped incredibly quickly. Didn't review earlier as they were a Christmas present. When they were opened I was amazed, they are heavy and sharp, no pitted metal here, and the handles are beautiful! Not only utilitarian and designed well, they are beautiful pieces of wood. I have already recommended to several people and would not hesitate to do again. Thank you!
Article arrivé avant la date prévue. C'est formidable !! Qualité d'emballage irréprochable. Articles conformes à ma demande et de très bonne qualité. Je suis très content et je souhaite plein de courage à celles et ceux qui ont contribué à la fabrication et à la commercialisation de ces articles. Merci à vous
Great product! Fast shipping, and the quality is wonderful! Highly recommend! Thank you
Beautiful and sturdy tools! They worked well on some trial wood and I look forward to spoon and bowl carving soon!
I was very impressed with the value and quality of the carving tools. The honer or \ sharpener\ came with two packages of compound, leather strop and different grits of quality sandpaper. Tools were very sharp. I will order more tools. Shipping arrived here in Canada very fast. Only took a few days.
looks amazing can't wait to start using them
Herramientas muy bien hechas, para que duren tiempo. Es tal como la foto. Mangos muy agradable al tacto y manejables.
I can't believe how quick it arrived and the super high quality everything was. It was worth every penny and I will be buying again from this seller! Thank you so much.