SK2 Long – Spoon Carving Knife with Long Handle
$24.99
$19.00
Sale ends on ,

10 Years Guarantee
This product carries a 10 years guarantee from the original purchase date.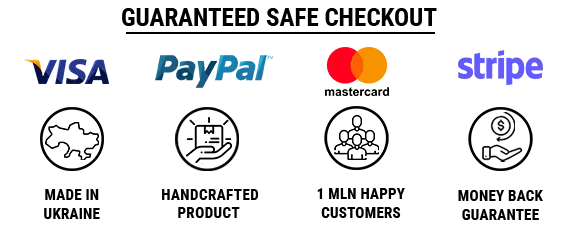 This spoon carving knife SK2 Long is a perfect tool for creating your artwork. With the hook knife, you will be able to carve wooden spoons, kuksa, bowls, and more. The spoon for carving has a long handle, which allows you to apply less effort even if you carve for hours. Its rounding diameter is 30 mm, which is ideal for small and middle-size products. The handle is made from Ashwood and covered with natural linseed oil, which is free of chemicals, eco-friendly and safe.

With the kuksa carving knife SK2 Long, you can cut both hard and soft types of wood. The blade of the hook knife is made from high-carbon steel and is well-sharpened. As the blade is double-sharpened, it goes both for right- and left-handed.

SK2 Long handle knife will become a nice new tool in your instrument stock, especially if you are used to applying more force to your tools and are now in dismay about working with palm tools a little. Its long handle will let you put both of your hands on the tool while carving, which will change the power application and make it easier for you to carve. A great thing to use if you're working with hardwoods, for instance, or anything else that requires more effort from you.
Specifications:
Total length – 365 mm (14.37 inch)

Rounding diameter – 30 mm (1,18 inch)

Handle length – 300 mm (11.81 inch)

Handle material – Ashwood
Long-Handled Wooden Spoon Knife Materials
Everything that gets created by BeaverCraft here in Ukraine, which is the biggest country in Europe, aims to achieve the famous European quality in everything, including wood carving tools, is made out of only the most optimal materials there are for toolmaking. The handle, or shaft, of this
long-handled spoon
knife, is made of light wood and the most ergonomic shape for carving that won't exhaust your hands quickly and would allow you to work on your projects longer. It's finished with natural oil to prevent cracking of the handle and preserve it longer. 
The blade, or razor, of this SK2 spoon carving knife is made with high carbon steel which holds the edge and cuts wood easily, much better than other options like stainless steel, for example. It's easy to strop or sharpen, and the effect will last longer, so you won't have to worry or get bored with the routine anymore. Of course, you still need to strop the tool if you want it to serve you better and longer.

Long-Handled Spoons as One of the Things to Create
Such a tool can be helpful in different sorts of projects, really. That depends more on your preference and plans to carve. However, it is indeed true that a hook knife is more helpful with concave shapes, spoon ladles, and so on. That's why you can create gorgeous
 spoons
with this long-handled spoon knife! Only an example, of course, but let it become an inspiration to you - and you'll certainly enrich your experience.

How to Use a Long-Handled Knife for Spoon Carving
Hook knives are a great tool to use if you are up to carving some kitchen utensils like cups, spoons, or bowls. It's also a very practical instrument for any concave shape that you want to decorate your carving with. So it creates scoops of wood that you want to remove. With it, you'll comfortably create the needed thickness and shape of a spoon, ladle, bowl plate, or cup. More information about how to use a hook knife can be found in our YouTube tutorials.
Amazing
If your buying other than BeaverCraft, your missing outSuperior product, Yes its made in Ukraine but all the products that I have purchase (here in US) I have been overly impressed with the quality and craftsmanship.
I may be no Robert Sorby...
But I own and use a lot of tools and can recognize a decent tool when I pick it up. These are really nicely made, razor sharp, beautifully polished, an amazing value. It might not be a Hirsch or Kirschen but for the money, you'd be hard pressed to find anything better. For the beginner or non-professional carver who doesn't have hundreds to lay down on carving tools, or those that just used them sporadically, these can't be beat. I will definitely be investing in more from Beavercraft as I need them. Well done!
Good tools
The tool arrived very sharp - my only criticism is that the blade was protected by bubble wrap and tape and the blade had cut through the wrap and I cut myself trying to unwrap it. Once it's unwrapped there's no blade protection so I had to make a leather sleeve to protect it and myself!My first task was to hand carve a bowl from a maple log and the tool cut cleanly and held a good edge for the project. A touch up with a strop (a broom handle with green compund) restored the edge.I like the long handle which allows for one or two handed use
Right to for the job!
Just received my new beavercraft knife! I am extremely pleased with the quality. I am about to start a new project and this is the PERFECT tool. Love it!
Ready to use out of the box
Used to carve a simple spoon as a practice price easy to use and sharp
Worth the price.
Like this hook knife. The long handle adds leverage when carving. Well worth the money.
Very sharp!
Really does the job!!!Very sharp!
really long but sturdy!
a lot longer than i expected it to be. but super sharp, i've accidentally taken off a bit of skin a few times. but it works great, just too big for me, which is my bad for not reading the product description closely enough.
Like it
Used it on making a few spoons so far and does a good job. I use it in combination with other Beaver Craft hook knifes as only one does not cover every spoon you do. So far so good!
Great Spoon knife.
This tool is an absolute winner. The long handle allows you to use (1) use both hands at once, and (2) bring your shoulder and arm muscles into play. You can make small, carefully controlled cuts using the left hand for a grip near the blade, allowing you to hold the handle further up with your right hand. This allows greater leverage and takes pressure off the right hand, which with a small handled spoon knife has to both grip, control the cut, and provide the power for the cut. I recommend watching a video to see how you hold your hands for the best leverage and power. Also, it's incredibly sharp, and goes through field maple with ease.