TR21 - Leather Tool Storage Case for 4 Tools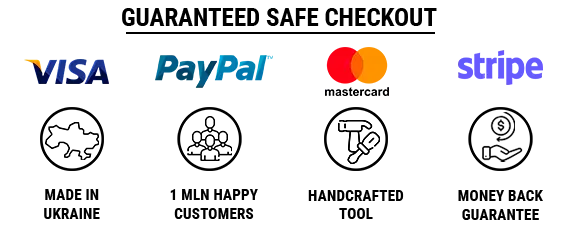 Width & height – 215 x 325 mm (8.46 x 12.8 inches)
Pockets quantity – 4 pockets
Pockets depth - 100 mm (3.93 inches)
Pockets width - 40 mm (1.57 inches)
Meet our BeaverCraft TR21 premium leather tool case - the perfect gift for carving enthusiasts. This high-quality case is designed to keep your carving tools safe, with four spacious pockets that close securely with buttons.

The four pockets are created to contain tools of varying dimensions and shapes, thus simplifying the process of organizing all carving implements in one location.
The pleasant and smooth leather material offers superb sturdiness, ensuring your tools are safeguarded against scratches, nicks, and other damage.
It is made in two stunning shades of brown leather, making it a stylish and practical accessory for any carving lover.
And with its sleek and stylish design, this tool case bag will impress both novice and experienced carvers alike.

Whether you're a professional carver or just starting, our premium leather tool bag is the perfect choice for keeping your tools safe and secure. So give the gift of organization and protection to the carving lover with our BeaverCraft TR21 leather tool case bag.