TR3x14 - Leather Tool Storage Case for 4 Tools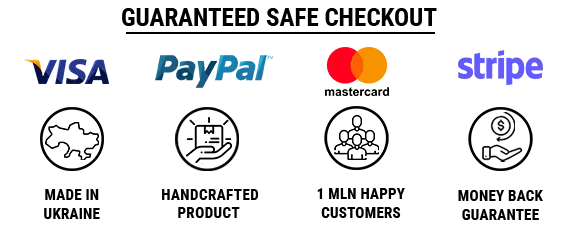 Width & height when opened – 300 x 220 mm (11.81 x 8.66 inches)
Width & height when closed – 145 x 220 mm (5.71 x 8.66 inches)
Pockets quantity – 4 pockets and 2 additional triangle pockets to hold leather strop
Pockets depth - 70 mm (2.76 inches)
Pockets width:
1st-3d pockets - 35 mm (1.38 inches)
4th pocket - 25 mm (0.98 inches)
Introducing our premium BeaverCraft TR3x14 leather tool case bag, specially designed to help you keep your carving tools safe and secure. The bag is made from top-quality genuine leather and is the perfect storage solution for any carving enthusiast looking to protect their valuable tools.
The soft and supple leather provides excellent durability, protecting your tools from scratches, dings, and other forms of damage. The leather's natural water resistance will help keep your tools safe and dry, even in wet conditions.
The sturdy straps ensure that your tools stay securely inside the holder, while the comfortable size makes it easy to transport your tools from one location to another. And with its sleek and stylish design, this tool case bag will impress novice and experienced carvers alike.
BeaverCraft TR3x14 case also includes a leather strop to sharpen your tools perfectly.
Invest in the best protection for your carving tools with our premium leather tool case bag. Order yours today and enjoy the peace of mind of knowing your tools are safe and secure, no matter where you go.