TR6 - Tool Storage Roll for 6 Tools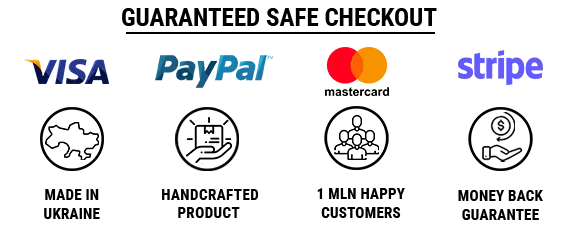 Width & height – 420 x 350 mm (16.54 x 13.78 inches)
Pockets quantity – 6 pockets
Pockets width – 70 mm (2.76 inches)
Pockets depth – 95 mm (3.74 inches)
This canvas tool roll is a compact and sturdy way to store and transport your knives, woodcarving chisels, and other tools. It is made of high-quality canvas and stitched with strong thread, this tool storage solution can withstand the wear and tear of everyday use.
With space for up to 6 tools, this tool roll is perfect for those who need a compact and lightweight storage option. It can be easily carried in your hands, in a backpack, or in a working apron, making it ideal for on-the-go use.
Transform your workshop with the versatile tool roll that boasts convenient holes for wall or shelving mounting, enabling effortless use. Showcase your tools with pride while keeping them easily accessible and organized with this exquisitely designed storage solution.
With strong tape to keep it closed, this canvas tool roll is a great way to keep your tools organized and within reach.
Whether you're a woodworker, crafter, or DIY enthusiast, the BeaverCraft TR6 Canvas 6 Pocket Tool Roll Wrap is a great addition to your workshop. It's modern, comfortable, and practical, ensuring that your tools are safe and secure at all times!