S05 – Chip Carving Knives Set
$79.95
$59.99
Sale ends on ,

10 Years Guarantee
This product carries a 10 years guarantee from the original purchase date.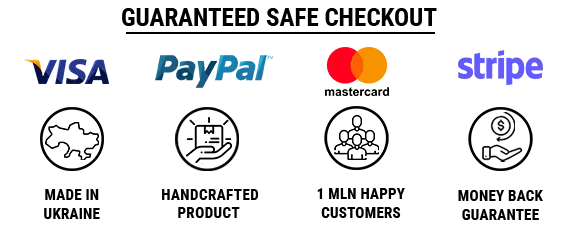 Carving geometric or abstract patterns in wood, or, in other words, chip carving, is an art that anyone can try to discover. The BeaverCraft S05 Chip Carving Knives Set will be a perfect opportunity to get into chip carving. And for a beginner, chip carving can become a great starting point in mastering various carving techniques.
Intricate wood carving, the geometry of patterns that strikes with beauty and sophistication, requires appropriate carving tools. Tools that are convenient, reliable, and show high performance.
This versatile knife kit will effectively handle any carving task and design: the tools are convenient for cutting, removing small chips, and carving various geometric patterns in the wood. The knives from this set are distinguished by their laconic design and first-class materials used for production. They are razor-sharp and well-balanced knives that fit comfortably in your hand and bring real pleasure while carving. Everything is neatly thought out and packaged in a convenient, reliable canvas tool roll.
What do you get?
C12 – Chip Carving Knife
Total length

 – 160 mm (6.29 inches)

Handle length

– 120 mm (4.72 inches)

Length of the cutting edge

– 20 mm (0.78 inches)
C11S – Small Chip Carving Knife
Total length

 – 140 mm (5.51 inches)

Handle length

 – 105 mm (4.13 inches)

Width of the cutting edge

 – 20 mm (0.78 inches)
C10 – Chip Carving Knife
Total length

 – 150 mm (5.90 inches)

Handle length

 – 105 mm (4.13 inches)

Width of the cutting edge

 – 40 mm (1.57 inches)
C10S – Small Ship Carving Knife
Total length

 – 135 mm (5.31 inches)

Handle length

 – 105 mm (4.13 inches)

Width of the cutting edge

 – 30 mm (1.18 inches)
Beautiful set of chip carving knives. I cannot wait to use them! Thank you so much for sending my order while your country is in war. I really appreciate it.
Great tools..matched the descriptions..met over my expectations
Quizás por las fechas(Navidad) tardó en llegar pero mereció la pena.
Excellent
Watch a YouTube video to understand how best to use these. I struggled at first but after watching a BeaverCraft spoon carving video, I was able to quickly make up four sets of large wooden spoons on Christmas Eve. IMPORTANT: get yourself some cheap carving gloves with this. You can't replace fingers so protect them well.
Really good entry level kit
I found this kit to be an incredible value. Though, at the time of me writing this review the kit seems to be unavailable.
Need gloves!
After watching a few Youtube videos, I tried the set out and ended up whittling for 3 hours. In addition to this I also bought gloves for prepping food for $17 and I highly recommend that. I never whittled before and several times I did not realize I was holding the blade part with my palm. I also had a puncture wound when I lost control and the gloves did not completely save me. But no ER visit at 2am.I was kind of chuckling because some people said the blade wouldn't cut at all…and I think they were using the wrong side. The blades work well and I was carving pine wood which is not as soft as basswood.For components, there is foam inside with cut outs for the pieces to protect the blade. I also like that the wooden box has a piece that bends because it's been scored.Overall m, the set is good, but for my purposes I might need to add a different knife.
tutto ok buon prodotto, corrisponde alla descrizione
Very very sharp!!
Fits good in the hands very good quality. I'm glad I got them.
Great carving kit, great value.
The knives come sharpen and ready to do carving. Easy to hold.