C6 - Chip Carving Knife
$19.55
$13.00
Sale ends on ,

10 Years Guarantee
This product carries a 10 years guarantee from the original purchase date.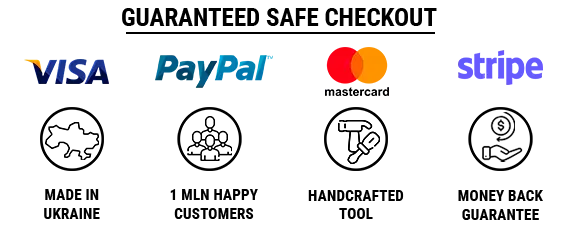 Total length - 155 mm (6.10 inches)
Length of the cutting edge - 25 mm (1 inch)
Handle length - 120 mm (4.72 inches)
Handle material - Ashwood
This chip carving knife has a special blade shape for performing geometric wood carving, detail work, delicate work such as detailing sculpture, cutting small elements in wood. With this knife you can make both smooth and curved geometric shapes, you can cut out triangles, squares, lines, carve letters, caricatures and more. The blade is made from high carbon steel, hardened and sharpened. The cutting edge holds the sharpening well. It goes both for right- and left-handed. The handle has a convenient shape, made from Ashwood and covered with natural linseed oil. The design is unique and eye-catching; the material is free of chemicals and eco-friendly. The amount of great tasks this chip carving knife can perform may certainly be a very pleasant surprise to you. It won't be the best choice for general roughing out of the workpiece, but other than that - this knife is your go-to when it comes to any chip carving, detailing process or experimenting with styles and approaches. The blade shape makes it easier to carve patterns and details which will turn your carving project to a precise and unique one.
Chip carving knives from BeaverCraft
Everything that gets created by BeaverCraft here in Ukraine, which is the biggest country in Europe, aims to achieve the famous European quality in everything, including wood carving tools, is made out of only the most optimal materials there are for toolmaking. The handles, or shafts, of these
chip carving knives
are made of light wood and the most ergonomic shape for carving that won't exhaust your hands quickly and would allow you to work on your projects longer. They're finished with natural oil to prevent cracking of the handle and preserve it longer. 
The blades, or razors, of the instruments are made with high carbon steel which holds the edge and cuts wood easily, much better than other options like stainless steel, for example. It's easy to strop or sharpen and the effect will last longer so you won't have to worry or get bored with the routine anymore. Of course, you still need to strop the tool if you want it to serve you better and longer.
Chip carving wood as a part of whittling hobby
Chip carving is a beautiful, kind of perfectionist style that can become a great deal for your decorative tastes when changing a house to a home. It's a style that requires patience and learning, but it's worth it. It also requires proper tools to get you where you want to be, so don't neglect that by tiring yourself out with creating chip carving patterns with a general carving knife. Try our C6
chip carving knife
and make it easier on yourself!
Chip carving knives reviews
We fully support the idea that blindly buying is no good - turn to the
chip carving knives reviews
for BeaverCraft products. We've got plenty of good things being said about our tools, you are welcome to roam through the review section and decide for yourself how valuable the knife will be for you individually.
Great chipping knife
This is an amazing knife for the cost but I just wish that the handle was smaller and if the tip of the plate was smaller, I could use it as a chipping, knife and a detail knife but again it's still good knife
Good buy
Well made. Holds an edge.
Sweet little chip knife
My 5th whittling n spoon carving tool ive bought from Beavercraft. All excellent, n ur helping support a Ukrainian biz during hard times. Win win.
Fit my need for a very short blade carving knife.
Some carving steps need a very short blade to minimize accidentally cutting oneself. This knife with it's contoured handle and short blade works very well.
Really nice knife for an affordable price.
This is an affordable knife for a beginner or advanced wood carver. It holds it's edge well. Fits in your hand comfortable and does nice detail work. One of my go to knives when I'm carving. You really don't have to spend a fortune on knives, this is a really nice one. I would recommend and I would buy it again.
Not a premium tool, but a good user.
Good value and I would reccomend it. A little small for my hand size but I am new at chip carving.
Quality Chip Carving Knife
Simple knife that does what it is supposed to do as a chip carving knife. Sharp edge out of the box. Like all knife blades, it has to be kept sharp by occasional use of a smooth stone and stropping often. I have a regular carving knife by the same outfit and it is a pleasure to use and also maintains a sharp edge if properly stropped, etc.
What I needed
Works good , easy to sharpen.