P1/01 - Palm-chisel straight flat. Sweep №1

10 Years Guarantee
This product carries a 10 years guarantee from the original purchase date.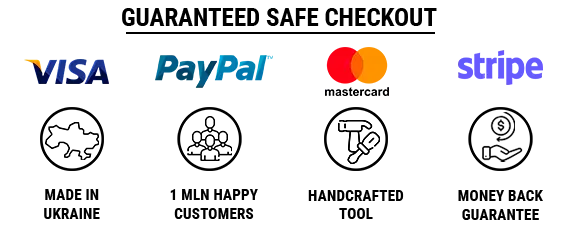 Blade width –1 mm (0.04 inches)
Total length – 140 mm (5.51 inches)
Blade length – 75 mm (2.95 inches)
Handle length – 65 mm (2.56 inches)
BeaverCraft palm-size straight
rounded
chisels sweep №1 are made for extremely fine straight cuts and finishings. Has straight blade with single bevel. Comfortable small handle lays comfortable and steady at any hand.
Wood carving palm-chisels BeaverCraft are razor sharp and ready-to-use right out of the box. Made of high quality carbon steel. Sharpened and honed manually. You can use such tools for both softwood and hardwood treatment. Handle is made of Ash and oil impregnated. It is convenient to use and good for long usage.
BeaverCraft chisels are handcrafted both for beginners and professional wood carvers.
All the Palm chisels I have purchased thus far are extremely well made, sharp, hold a keen edge even in hardwood like my walnut gunstock and are comfortable in the hand which allows one to work for long periods of time without hand fatigue. Customer service is fantastic no matter what the issue you may have!
excellent. really nice tools and works perfectly
perfect tool, very nice quality
article correspond a mes attentes
Absolutely delighted! Much obliged. And God bless Ukraine!!!
Looks nice and works nice.