P8a/14 - Palm-size short bent gouge. Sweep №8

10 Years Guarantee
This product carries a 10 years guarantee from the original purchase date.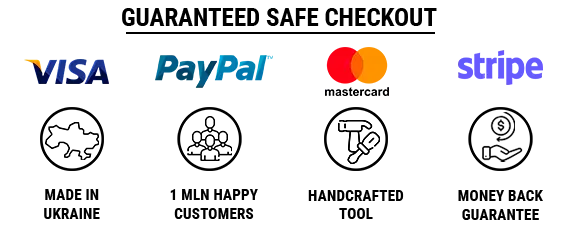 Blade width – 14 mm (0.55 inches)
Total length – 140 mm (5.51 inches)
Blade length – 75 mm (2.95 inches)
Handle length – 65 mm (2.56 inches)
BeaverCraft palm-size short bent gouges sweep №8 is great for deep but precise extract. Great for deep details as well as spoon, kuksa and bowls. Shorter blade and more compact comfortable handle for your best carving projects.
Wood carving chisels BeaverCraft are razor sharp and ready-to-use right out of the box. Made of high quality carbon steel. Sharpened and honed manually. You can use such tools for both softwood and hardwood treatment. Handle is made of Ash and oil impregnated. Should be used for precise manual treatment only, excluding hammer and mallet use. It is convenient to use and good for long usage. BeaverCraft chisels are handcrafted both for beginners and professional wood carvers.
I bought 4 tools for my boyfriend and he is absolutely in love with them. We had some issues with French distribution center but we finally got the package ! The seller is very nice and helpful. We recommend this shop at 100%.
Beautifully crafted tool. I'd ordered as a Christmas present but due to various circumstances in the Ukraine delivery was badly delayed, & arrived very, very late. However, that being said, it wasn't the sellers fault & I'd happily order again - as long as it wasn't a time-sensitive gift
Great tool at a great price!
This is a truly exceptional tool that has been a pleasure to use in my woodcarving projects.First of all, the build quality of the BeaverCraft gouge is outstanding. The blade is made from high-quality carbon steel, which has allowed it to maintain its sharpness even after extended use. The handle is also made from durable wood, providing a comfortable grip and ensuring that the tool feels balanced and sturdy in my hand.What I love most about this gouge is its versatility. The bent blade allows me to carve both deep and shallow grooves with ease, and the 22mm size is perfect for a variety of woodcarving projects. Whether I'm working on a small, intricate piece or a larger project, this gouge has been up to the task every time.Another great feature of the BeaverCraft gouge is its ease of use. The blade cuts smoothly and effortlessly through wood, making it easy for me to achieve the precise cuts and shapes I need. I also appreciate the fact that it's easy to sharpen when needed, so I can keep it in top condition with minimal effort.Overall, I would highly recommend the BeaverCraft Woodcarving Bent Gouge to anyone who is serious about their woodcarving. It's a high-quality tool that offers exceptional performance and versatility, making it an excellent investment for any woodcarver's toolkit
Good sharp tool, very sharp
This bent gouge spoon carving tool came carefully packaged. We were pleasantly surprised with the something extra that was included. Grins and laughs that the company included two adhesive bandages. We will purchase from this company again. Note to self: Keep the bandaids handy. :)
super sharp out of the box
Great tool right out of the box. good control and feels good in the hand, well worth the money/
Sturdy, well-made tool
Perfect for carving out the bowl of a spoon. Sharp blade, and comfortable handle. Appears to be very well-made and sturdy.
Very pleased right out of the box.
Right out of the box the Wood Carving Bent gouge K8a/140.55 is sharp and ready to use. I was pleased how easy it would gouge out the pine wood I was working with. I haven't tried it yet with any hard wood yet but I can tell it's going to work very well. The curve of the gouge is great to work with. If you're not going to deep into the wood you can scoop out the wood pretty easily, I just took it slow as not to gouge any fingers. I found it easier to put the wood into my vise so I could use two hands to hold the gouge. I'm just beginning to get into wood carving and this gouge makes it fun to make a spoon or a bowl. It's a good price and a quality tool to have. I was going to get a curved carving knife but I'm glad I got this bent gouge first.
Richtig scharfes Teil
Richtig scharf und auch super griffig
Sturdy and sharp
I opened the box to find a sturdy spoon gouge with masking tape protecting the tip. Also included was a bandaid. I took the gouge to a piece of walnut I had been working. It cut the wood sharply and felt steady in my hand. I was on my lunch hour so just a bit of experimenting. Within a minute I needed that band aid.