TH10 - Tools Holder BeaverCraft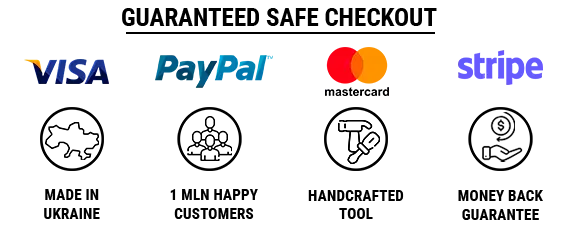 Width – 250 mm (9.84 inches)
Height – 220 mm (8.66 inches)
Depth – 105 mm (4.13 inches)
Rack height – 95 mm (3.74 inches)
Holes diameter – 35 mm (1.38 inches)
Weight - 0.4 kg
If you want to know how good the woodcarver works and what the result of the carving will be, look at the workplace and equipment of this craftsman. These things will tell you more than the best recommendations.
Well-chosen tools storage systems like the BeaverCraft TH10 Tools Holder organize your workplace properly, save space, and provide secure tools storage and safe transportation. Tools, placed in a strict order in their cells, allow you to find them without looking and take them with one hand movement.
The BeaverCraft TH10 Wooden Tools Storage Box was designed to help woodcarvers organize their workspace and keep their tools close at hand.
This wooden case is made of high-quality plywood. It has ten storage compartments for tools of various designs. It is ideal for a variety of wood carving tools – whittling knives, compact chisels, gouges, spoon carving knives, and other instruments from BeaverCraft or other manufacturers. Its design is universal – this tool holder can be placed on a table, workbench, or attached to the wall.
With the help of this branded storage system from BeaverCraft, your wood carving workshop will become neat and stylish, work will be fast and safe, and your status will be high.
I was looking for a tool rack to store all of my whittling tools, and this one is absolutely perfect! Beavercraft keeps on delivery excellent products.
Great BUT
Amazing what a good numeric program and cutter can do and a very well designed unit. That said without glue to keep the little pegs in place you will be chasing them and losing them any time you move or even tough the rack. Tighter slots might help but make it harder to assemble so glue should have been included or at least called for
Happy Crafter
This tool holder fits my needs perfectly! Keeps my tools organized and away from my desk working area. Much cleaner desk, and the box looks good, too. It was easy to assemble. To make it very solid, I added a spot of wood glue to the tab areas. I'm sure I will enjoy this organizer for many years!
wood carving tool holder
The Pros:Assembly took a matter of a few minutes.Product is sturdy and very light weight. It holds tools well, great for placing a few tools during a carving session. The holder has foam inserts to help keep tools sharp and protect the tips if they bottom out.The holes for tools are large enough for a variety of tool sizes.The cons:Pegs fit loosely into the peg holes. My remedy was add some white glue to each. That made the holder feel more rigid
Sturdy and Fantastic Tool Holder
I'm absolutely pumped I was able to get my hands on one of these.Usually when I am going to carve, I have to get out my tool roll, and all my other tools from my garage. But now I have a perfect place to keep them put away nice, neat, AND dry. Right next to where I usually do my wood carving.I love the design.Easy and kind of fun to assemble.And the bottom of the tool rests aren't hard on your blades.I love this company, for every product they make.Great Job!
Needs Glue To Make Sturdy, But Works When You Do That
I was very excited to test this out. Let's see what happened.WHAT IS THIS KIT LIKE?This comes with pieces in it, some small wooden keyhole shapes of wood, foam, and instructions. It comes wrapped very well.HOW WAS THIS TO PUT TOGETHER?This is a nice set to put together, but some of the slots were broken. I used wood glue at every spot where I slipped a key through the slot and it stays fine.HOW IS THIS ONCE IT IS PUT TOGETHER?This is only nice when it is assembled using wood glue. IT is nice and sturdy then. The rack will hang on the wall nicely and the pieces will stay together.DOES IT HOLD TOOLS WELL?This holds all of my tools nicely.THE BOTTOM LINEThis tool rack is great for wood carving tools. IT needs wood glue to go together or it is not sturdy, but once it is glued, it is great for holding at least 10 tools.MY RATINGFOUR STARS This should explain that you need glue or come with it. Otherwise it is a nice rack once glued.
Old world charm to display your knives, tools and more
BeaverCraft, TH10 Wooden Tools Storage Box Holder for 10 Tools - Plywood Craft Tools Organizer - Hobbies Tool Organizer - Tool HolderReceived item well packaged and on time! After unraveling the many layers of protective covering it was noted that 3 of the tabs were broken. These tabs are used to insert the "keys" that lock the panel in place. The package came with visual instructions that were more than adequate for assembly. The opening for the tools are a good size for more than one knife or other tools. I like that you have the option to mount on a wall or display on a shelf Very easy to assemble!Once assembled the tool holder exudes old world charm and craftsmanship! It is the perfect solution to organize and display your knives and other tools.The broken tabs most likely due to rough handling during shipping As this arrived very well packaged. A little wood glue and it was fixedMight want to consider sturdier tabs or alternative ? Overall great organizeUpdate: Beaver craft reached out to me and sent over a replacement. The package arrived intact! OUTSTANDING CUSTOMER SERVICE. Great company!
Great tool holder, must have for spoon carving
Full disclosure, this tool was sent to me as a give away from Beaver Craft Tools. All opinion are my own and are honest so I can share a true review of this product with my fellow carver's.First impression - The parts are laser cut and line up perfect, parts come very well packaged and the instructions are in pictorial format. At first I thought the material could be a little thicker, but once you assemble it its plenty sturdy and holds well.Assembly - Assembly is fairly straightforward, the instructions are simple enough to understand and takes about 5 minutes to assemble. The kit comes with foam pads that sit in tray for easy tool resting.Final thoughts - the tool holder is simple yet functional, assembly is very very easy (easier than jigsaw puzzle). The holder is very handy for easier access to carving tools and keeps everything sorted. I was previously using the canvas wrap to store my carving tools and over a due course of time i acquired a lot more carving tools, storing was a pain so this product is a very practical solution.The only thing that I was not too sure about was the small wooden tabs to hold the joinery can be a little loose (horizontal only). But once you assemble it everything holds in place. I might use glue if these come loose again but it's not a big deal.Great tool holder, easy assembly and most important it looks great on work table and make things very organized.Varun Pauddar
Great little tool holder.
Got my tool holder today and put it together immediately with my daughter. All the parts fit together nicely and I've added a little wood glue to each tab to hold it together as we went. Holds some tools very well and keeps me from stabbing myself with tools scattered around my workplace. Overall this is a well thought out design for a workplace. Love the fact it can be mounted on the wall also. Worth the money for professional or a beginner.
Great little tool rack!!
This little tool rack is Great! Just recently I got into whittling and my work space is limited, I soon realized that a bunch of sharp knives/tools piled up in a small area makes for a dangerous working area. Cue the BeaverCraft TH10 wooden tool storage and now I can see what I'm reaching for safely. 10 slots to hold your tools or more if they're smaller ones, is just enough for whatever project I'm working on currently. I read a few reviews prior to assembly, which is fast and simple, but I used glue on the little connector tabs since some said they come out easy, which they do no big deal and is now pretty solid. All in all I'm happy with the rack and the BeaverCraft company, I also purchased there wooden paddle leather strop which is of nice quality and happily got there Sloyd knife as a father's day gift.