S18X - Deluxe Wood Carving Set With Walnut Handles
$199.99
$169.99
Sale ends on ,

10 Years Guarantee
This product carries a 10 years guarantee from the original purchase date.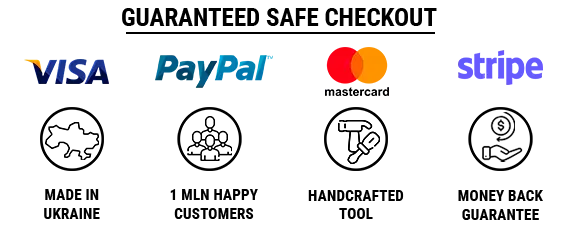 The set includes 8 knives and a premium leather tool roll
The material used for handles – a black walnut
Designed for a wide range of woodcarving techniques
A black leather strop and a green-gray polishing compound are included
Weight - 3 kg
Our company always strives to provide our customers with services of the highest level. We create carving tools that can please even the most demanding woodcarvers. Our BeaverCraft S18X wood carving kit is a handy, beautiful, and stylish knife set that allows you to realize your most fantastic carving ideas. It will help you carve various figures and caricatures out of wood in the most challenging conditions. It can also become a good gift for connoisseurs of beauty and practicality.

The tool blades of this whittling knife kit are made from premium high-carbon steel, which gives the tools excellent cutting performance and overall strength. This wood carving tools set will become a good choice for professional carvers and wood carving enthusiasts. These BeaverCraft whittling knives are a combination of reliability, beauty, and good technical characteristics.

Just one large BeaverCraft S18X deluxe set will be enough for you to master a wide range of woodcarving techniques. With this set of wood carving tools, you will be able to create dozens of projects - from simple and small figures to complex and intricate sculptures. When you buy our S18X set, you will discover that these quality wood carving tools go perfectly for geometric and detail carving, whittling, chip carving, spoon carving, etc.

The combination of materials and the overall ergonomics of the knives ensure easy and safe woodcarving over long periods of work. BeaverCraft S18X whittling kit comes with a stylish and comfortable tool roll made of high-quality genuine leather. Everything is designed for the convenience and safety of you and your tools.

Great Product, Great Service
I recently purchased the S18X Delux Wood Carving Knife Set from Beaver Craft. I am retired and just took up this hobby of wood carving. A few of my initial crude carvings are shown above (beer bottle, pretzel, cat, piano). The knife tools are very well made and ergonomically friendly. I found whittling gloves to be very important since the blades are razor sharp and it's easy to cut yourself, especially when inexperienced. The leather tool kit holder is especially nice looking and has a high quality look and feel.I did have one knife blade with a very narrow sharp tip to break in early use. Since they have a knife warranty, I requested a free single knife replacement via email (I attached a knife photo). They quickly responded and sent me a whole new kit! Wow!! That was unnecessary and I am trying to inquire about returning it for just the single knife replacement. In any case, the customer response was very fast and much better than you would find with most companies these days. I strongly endorse Beaver Craft for their quality products and service. Wish more venders were like this.
Exudes quality!
Very well made knives. They come very sharp, I love the brand so much infact that I just ordered their hand axe also.Perfect balance of price and quality. Seems you get MORE quality then you pay for, which I find to be rare nowadays.
Great product
This has been the perfect product for beginners all the way to professionals this truly is a great set
Great set!
I purchased this set as a gift for my son and he loves it! Very sharp knives and easy to handle!
Good set of quality tools, but be buy at a reduced price
This normally retails at $199. I bought it at a reduced price of $169 when it went on sale. Lucky me. Lots of people poo poo these Beavercraft tools online, calling them rank beginner items and when you grow yourself some facial hair, you can step up to Morakniv, Lee Valley or Wood Tools, and then up from there once your voice deepens.Upon this sagely advice, I bought a Morakniv right handed because the dear dual sided hook knife gave me a grave injury within 2minutes of using it on pine. I needed stitches, but refused to go to ER because I was trying to join the facial hair crowd. The Morakniv came to me dull as a brick (I tried two separate ones), and the handles were half the quality of the Beavercraft which were in a nice black walnut type wood. The steel was discoloured a bronze colour on both of the Moras except for the edge.I have used my Beavercraft mini drawknife, and carving tools with great success. They come razorsharp (except for the Beavercraft gouge which was unimpressively semi sharp) and even my three young daughters prefer them over any of the other knives I have in the house for carving. They positively exclaim with joy how comfortable in hand they are, and how easy to use them. Of course, each has nicked their fingers and thats why the bandaids are useful. Thoughtful touch BV.The leather roll is SUMPTIOUS, and takes leather conditioner very nicely. Honestly, imo, this is a heirloom tool and looks to last decades into the future.
Extremely High-Quality Knives & Case
Where to begin? These knives are razor-sharp as advertised AND they hold their edge quite well, even putting up with the abuse I (as a new whittler) gave them. They are ergonomic and obviously manufactured with care and quality control (unlike 99% of the mystery brands you see these days). I love that this set includes a full-spread of knives, from chip carving to spoon/hook knives, you're set - everything you need is in this case, even polishing compound!The leather case is HANDSOME , super thick, gorgeous leather. I'd buy this set just for the case it's so nice. Beyond being pretty, it's nice because it protects your knives and more importantly protects YOU from them. There is no accidentally reaching in and cutting yourself with this case as there is an internal flap that lays over the blades you have to lift.I bought a chisel/gouge set from Beavercraft and a bunch of basswood too, i was so impressed. this set is affordable but nothing to scoff at in terms of quality, i think any seasoned carver would be happy to use these knives!I later found out this is a Ukrainian Company - all the more reason to support Beavercraft, small businesses like this are going to be the backbone of the new economy once the goblins are vanquished.Buy them. They're great!
Great set of carving knifes
We're sharp upon arrival very well made really comfortable to use
Amazing quality tools. I tested them out with a small walnut coffee spoon and the tools did a great job without any sharpening. The leather roll is high quality and provides great protection for the tools.
Wonderful!
I only bought these because I saw the word, Beaver on the description.