S50X - Deluxe Large Wood Carving Set With Walnut Handles

10 Years Guarantee
This product carries a 10 years guarantee from the original purchase date.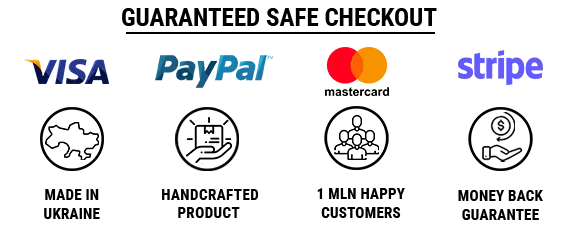 Enormous Deluxe Edition – 9 Tools in Leather Shoulder Bag
Genuine Leather Bag – Carry Around with Pleasure & Ease
Ergonomic Handles Out of Chocolate Walnut Won't Leave You Indifferent
For Wide Range of Projects & For All Types of Wood
Weight - 3.0 kg
Dimensions - 41 × 29 × 7 cm
Sometimes you need to spend a lot of time, effort, and money to find a good and, most importantly, reliable set of wood carving tools that are perfect for your needs. By choosing the deluxe BeaverCraft S50X whittling kit, you can save your efforts and time and be sure that you will be 100% satisfied.
BeaverCraft deluxe S50X wood carving set in a stylish design, noted by many experienced woodcarvers, will be a wonderful gift for everyone, whether you are a beginner wood carving enthusiast or a professional virtuoso carver.
In the manufacture of wood carving tools, BeaverCraft combines the advantages of traditional blade forging with advanced precision technology. The result of the hard work of a large team of professionals is premium knives with sharp and durable blades.
BeaverCraft whittling knives (razor-sharp, efficient, functional, and ergonomic) from the S50X luxury whittling set are up to any woodcarving challenge. All wood carving knife tools (sloyd knives, hook knives, gouge, draw knife, detail, and chip knife) are made of special high carbon steel (strong and resistant to stress). The blades are forged with precise geometry, taking into account all the requirements, and embody the high quality of the BeaverCraft brand. Beautiful and stylish black walnut handles fit comfortably in your hand. Without gaps and seams, they have a thoughtful shape that will not allow them to slip out even with long carving, protecting you from injury.
Everything in this set is thought out to the smallest detail to give you the most positive emotions. The stylish genuine leather pouch (designed to store and protect your wood carving instruments), stropping supplies to keep your tools in the best possible condition, everything deserves your attention.
Fabulous kit
This is a great kit for the wood carver in your life. This is so easy to take with me that I use it all the time. The fit and finish is outstanding. Worth every cent.
Excellent Customer Service
I am new to whittling and wood carving so I am not able to compare these tools to other company's however, I am extremely pleased with the quality of the product and impressed with how well these performed right out of the package.In addition, Beavercraft has excellent customer service. I had one problem with one of the knives in my set. Beavercraft sent a replacement knife as well as an additional gift to thank me for the purchase and loyalty. I will definitely be purchasing again from BeaverCraft.
great set in an awesome case
love this set. the carry case is truely awesome. i would wish about2 or 3 additional knives but it is well worth the price. and i will asume we will always want one or more additional knives.
Great product
Great Product! Good price! Great service!
Amazing set with everything you need!
This is a fantastic set that came razor sharp. I love the easy carrying bag that keeps everything together and protected. This is my second beavercraft purchase and both have been excellent!
Beautiful and well balanced kit for the home or on the go
For those of you who want a wonderful wood carving kit that is easy to tote around and has just about everything you will need for whittling, spoon carving, bowl carving, and general purpose wood carving, this is the kit for you!Right out of the box, the first thing you will notice is the gorgeous leather shoulder bag with adjustable straps. Even my wife was enamored with how nice the bag itself looked! You can easily synch up the straps to sling it over the shoulder and lengthen it to comfortably carry the strap across the body. Everything from the stitching to the zipper feels like it's going to last.The tools even look and feel better than the standard Beavercraft tools. Some of the handles have a more flared tail which feels super comfortable in my hands (Beavercraft, if you are reading this please make the handle on the C3 standard). Everything is very well organized and every space is properly allotted to easily close up without worrying about damaging the tools.Even the strop that comes with the kit in the front pouch is, in my mind, superior to their standard leather strops. They give the option of using the suede side of the leather, which is super easy to apply compound to. It comes with three different compounds (white, green, and red) but I personally only use their green compound for everything. Still it is nice to have options available!The tool steel is of good quality and made of high carbon steel hardened between 58 and 62 HRC, which makes it perfect for wood carving. The edges don't dull fast and are easy to hone back to sharp with the leather strop if properly maintained. Strop your tools every 20 to 30 minutes of use and you won't have an issue.Carving through basswood is a breeze, but I wanted to try something a little harder. So I grabbed one of my walnut spoon blanks and started the carving process. Carving with harder woods can really bring out flaws in tools like comfort and edge retention. From my experiences, all of the handles were comfortable to hold on to long term and easily held its edge after 20 minutes.Overall, I love this kit. It is on the pricy side but you are paying for some extras over the S18X kit like the draw knife, the nicer strop, more stropping compound selection, and the beautiful carry bag.
Excellent upgrade OR beginner wood carving knife set!!!
I purchased the The BeaverCraft Deluxe Wood Carving S50X kit as an upgrade to my original 3 knife setup from BeaverCraft. There's so much good with this kit that I'll just say it's worth buying for yourself or as a gift for someone else, you definitely can't go wrong with this! The variety of knives make it possible to whittle caricatures and carve spoons and add details like chip carvings and kohlrosing to your wood crafts.Leather Carry Case:The two tone leather carry case is by far the best feature of BeaverCraft's Deluxe Wood Carving kit, the knives are awesome too, but dang, that leather is beautiful! The two tone look is gorgeous and the feel of the leather is silky smooth and soft. The leather carry case zips up to ensure your knives stay in the case and don't fall out, something I've always been concerned with when using the tool rolls. On the front of the leather carry case is a roomy zippered pouch that is excellent for storing the strop and polishing compounds that come with the kit. Inside the main zip up compartment is a denim look canvas backing with leather straps sewn in to secure each knife in it's own custom spot. The leather straps that hold the knives inside the case are custom fitted around each handle, ensuring a snug fit for each ergonomically designed knife handle. Overall, the zippered leather carrying case is the perfect blend of beauty and function and is what makes this kit so wonderful!The tools:Overall, I'm impressed with the quality of the knives that come with this kit. First and foremost, the blades all come sharp enough to carve without doing anything. The leather strop and honing compounds that come with kit will bring the already very sharp blades to a razor sharp edge capable of shaving with. Typically, these knives are used for carving green wood, or wood that is freshly removed from a tree, however, they are capable of carving seasoned hardwood, but it'll require more frequent stropping and sharpening.For my review, I tested the tools on some well seasoned apple wood and a flame box elder spoon blank I had laying around. All of the edges held up nicely with only using the strop to hone the edges. The steel used in this blades is hard enough to hold a good edge, which is great for more advanced carvers, but soft enough to be forgiving to beginners learning to carve and sharpen knives. In general, all of the knives, and the bent spoon gouge met or exceeded my expectations. The upgraded walnut handles are shaped and profiled to best serve the purpose of each blade. They are very pleasant to look at and more importantly feel great in my hand.A few things worth notingThe Detail Knife that comes with the deluxe kit does have a little bit more of a blunt tip as opposed to my older detail knife from BeaverCraft. I suspect this slight change has increased the durability of this detail knife. The tip on my older detail knife was rather easy to bend/roll out of place while carving because of sharp point of the knife. Personally, I like the adjustment made to the detail knife in this kit because it has mitigated that problem I was having with my older knife and better fits my carving style.The Hook Knives: The hook knives that came with my kit are for right handed carvers and I don't recall if there was an option for left handed knives. Both right handed hook knives, however, have the bevel already ground on the other side to less than 1 mm thickness, making it relatively easy to convert these single edge knives into double edge hook knives via sharpening on your regular stones.My first spoon carving knife set was given to me by my wife a about 4 years ago and was a BeaverCraft 3 knife set. At the time, I had no intentions of becoming a BeaverCraft fanboy because I thought the knives were just going to be my beginner set. The more I used those knives, the more I became impressed with their quality and durability. Over the years since, I've added a few more knives from BeaverCraft and have been just as impressed with the quality and durability of their knives. I HIGHLY RECOMMEND the BeaverCraft Deluxe Wood Carving S50X kit to beginners and advanced carvers looking for a great quality diverse set of carving knives with an even more amazing leather carrying case to keep your tools safe and stylish.
High quality set of tools
I'm a beginner when it comes to using anything besides my pocket knife, but these tools cover a whole line of uses that I have found necessary. I have even had my kids sit down next to me to do some carving! Well worth it!!!
Beautiful set!
This is a really wonderful bit of kit. It includes a great diversity of tools, and it looks incredible to boot. I'm so excited to have this as a part of my woodworking journey.
Fantasic
This is an impressive versatile set of tools sharp and ready to go. The leather case is outstanding quality, strong , tidy and very well made. It even has a separate pocket for straps and compounds which are also included!