SK4S – Open Curve Spoon Carving Knife with Leather Sheath
$25.00
$20.00
Sale ends on ,

10 Years Guarantee
This product carries a 10 years guarantee from the original purchase date.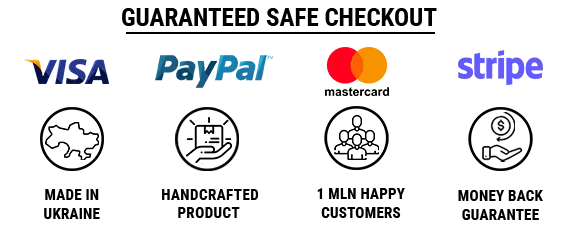 If you're looking for the best spoon carving knife, just try this remarkable hook knife. This long-curved knife was created especially for making great spoon carvings, kuksas, and bowls. This super practical tool comes with a durable leather sheath to carry your spoon knife everywhere. The leather sheath is designed specifically for this type of knife.
The curved knife is suitable for making easy and slight cuts deeper and deeper into the wood, which allows you to create beautiful woodcarving projects. The bowl carving knife has a comfortable longer handle, which allows you to work either with one hand or with both hands. The hook knife has an ergonomic handle, and it makes it possible to carve longer and don't get tired.
Single-bevel blade of this spoon carving knife is made of high carbon steel so the curved blade will perform for a long time.
Specifications:
Blade length – 60 mm (2.36 inches)
Handle length – 200 mm (7.87 inches)
Handle material – Oak
Sheath material – Cowhide leather
A great beginners knife
I like this knife a lot. I'm a intermediate spoon carver and I use this knife on almost every project. The long handle offers versatile gripping and the knife comes sharp and ready to use. I'm really happy with this knife for the price.
Bon couteau
Bon produit pour la taille du bois
A good basic knife.
After using this for awhile I ended up modifying the handle very slightly for my comfort. The blade will take a sharp edge but will not hold it quite as long as some of my other knives. It seems to work best with light rather than heavy cuts.
Exceptional Value
Exceptional quality and value for the money. These are very well crafted, of quality materials, by persons that know what they're doing and design for the end user in mind.The blade is sharp out of the box but you should hone it first. The handle is nicely proportioned, it seems long, but it works well! It can easily by shortened if you so desire. It even comes with a little blade sheath that is as nicely finished as any piece of fine leatherwork I've owned!This isn't cheaply manufactured Chinese stuff, this is a well made tool, and for the price, a bargain!Strasa Ukrainia!!!
Solid Knife
If your not buying BeaverCraft, your missing out.High quality, feels great in the hand, stays sharp.Ukrainian products are superior to Chinese products by far. It wont disappoint.
概ね満足
モーラナイフ164との比較ですが、Rが緩やか?なので浅い溝を掘りたい時にとても役に立ちます。刃も購入した状態でそこそこ付いているので、とりあえず使用するにはいいと思います。ブレード部が少し汚いのが残念でしたが、研ぐことが前提なので私は気になりません。
Arrived in good time and they sure are quality tools… you can't go wrong here if you're thinking about buying. Recommended!
Love these guys
I recently had another beaver craft product break, and so I contacted them about it, and they took such good care of me I ordered three more knives. Most of their knives hold up well, and you shouldn't sweat them being a value product because their customer service is fantastic.
Nice but long
I use to carve out bark in diamond willow diamonds. Longer than I expected but works well.
Beavercraft carving knives wonderful--great steel, design & finish....
Wonderfuil value....Great products careful service....Couldn't be better!