AP3X – Adjustable Black&Brown Leather Work Apron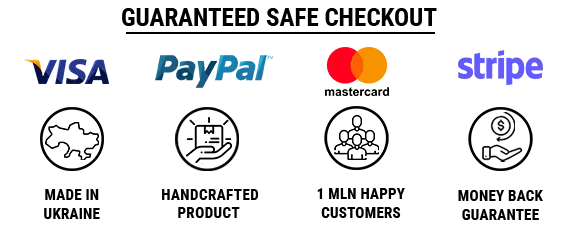 If you're a wood carver, artist, electrician, mechanic, butcher, chef, barber, or barista and value comfort and style in your workwear, then this AP3X Adjustable Leather Work Apron will not go unnoticed.
This heavy-duty leather work apron model is designed to be the perfect gear to protect against dirt and injury and to become an important addition to your work look. This stylish work apron you see in front of you is crafted from high-quality brown and black leather that looks better and better over time.
Brown leather is the dominant material for the bigger part of the apron, and black leather is used for decoration and emphasizes the pockets and straps of the apron, effectively contrasting against the general background.
Having big pockets is a must for most types of work because it is very convenient and practical to have all the tools and supplies at arm's reach. The leather doesn't weigh much and doesn't restrict your moves, so you'll be able to work comfortably. The grommets and rivets will make this apron serve you for a long time because everything here is built to last.
Our adjustable AP3X Leather Work Apron in black and brown is designed for versatile work and hobbies, including various crafts such as woodworking, painting, pottery, and cooking. A durable leather apron looks elegant, ergonomic, and easy to use, and its high-quality assembly provides high durability and wear resistance.
This tool apron makes a great gift for people of various gender and profession – wood carver, carpenter, mechanic, tattoo artist, hairdresser, chef, and barbecue specialist who appreciates exclusive work accessories designed for long-term intensive use.