AX1 – Compact Wood Hatchet for All Tasks and Purposes
Edward
Axe people,look no further. This tool is a piece of art, it will give you instant gratification as soon as you pick it up. IT'S NICE!

10 Years Guarantee
This product carries a 10 years guarantee from the original purchase date.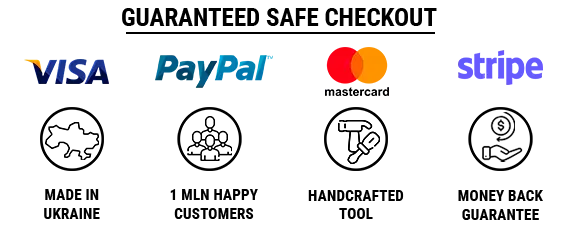 Total length — 300 mm (11.81 inches)

Head length — 140 mm (5.51 inches)

Blade width — 75 mm (2.95 inches)

Handle length — 240 mm (9.49 inches)

Handle material — Ashwood

Sheath material — Genuine leather
Looking for a small tool that can make a significant impact and cope with a multitude of tasks? We've got you covered! This BeaverCraft AX1 Compact Wood Hatchet will be your ultimate solution, perfect gear for all purposes.
This hand-forged bushcraft axe can handle jobs of various difficulty levels. It is small in size but big enough to take care of all your needs – cut branches, split sticks, chop logs, fell trees, make crafts, or even create an outdoor shelter. If you're a bushcraft enthusiast or can't imagine a weekend without hiking, backpacking, or heading out into the woods, this camping hatchet with sheath is just what you need. It's a compact tool with great possibilities.
Do you need a tool ideal for the on-the-go? Our BeaverCraft AX1 carving axe is an effective multitasking hatchet that will come in handy for all occasions. Due to its compact size and lightweight, this bearded woodworking hatchet will become an indispensable piece of gear in the wood carving workshop, in your garden, or on a farm, allowing you to cope with wood of any hardness in a matter of minutes.
Using only premium-quality materials to manufacture this hatchet, the BeaverCraft design team has created the perfect tool for various wood carving and woodworking projects. The tool demonstrates high performance in the field of green woodworking and carpentry. Such a multipurpose axe is suitable for all household needs, camping, bushcraft, or long-distance expeditions.
The axe features an ultra-sharp blade made from advanced hardened carbon steel, and a sturdy ash wood handle impregnated with linseed oil and wax. Our AX1 hatchet model comes with a sheath made from genuine leather and a belt loop to protect the edge and keep you safe.
Good feel and weight
Good weight and construction. Nice and dense. Wood is good quality and feels good in the hand. Head has a rustic look and feel to the metal. Leather sheath and holster feel very high quality and look very good. I wore it out today in public and was very comfortable especially with the blade turned toward my back. It also smells like you would hope, like leather, wood, and iron. I hacked apart a large fallen branch from my yard to get a feel for it's functionality. It cuts very well and appears to hold its edge. I've been hunting for a good hatchet for some time and this one fits the bill.
Jim
Product met all my expectations. Thanks
Sharp out of the box.
Bought it for my husband. He loved it. Might get me one!!
Great
This hatchet is small but packs a punch.
10 out of 10 all around
I ordered the product, it arrived before expected, the blade is razor sharp (and holds the edge). Perfect size/weight, comes with a belt holster and a blade cover. I had some concerns with my initial hatchet, but BeaverCraft responded immediately, going above and beyond fixing the problem I had. Whenever I make another purchase for any wood crafting tools, I know where to go.Thanks again. Cheers 🍻
Serious Hatchet, Serious Value
I'm repeatedly impressed with the value of Beavercraft products, and this carving axe is no exception!Where else will you find a forged hatchet for this price? Nowhere that I know of! Now, as you can see in the pictures modified it to suit my particular needs. I gave the edge a slight curve and drew the bevels out finer to accommodate my style of cutting. Easily done even by an amateur who is patient and observant. Otherwise any competent bladesmith or tool finisher should be able to help you.Out of the box the blade is sharp enough to tackle chopping duty, but remember this is a carving axe not a felling axe! It will need to have the edge refined and well sharpened to act well as a carving tool. It takes a razor edge, and appears to be well tempered.The handle is well finished. I would have preferred a meatier handle but that's a matter of preference, easily resolved when I decide to rehandle it. I might suggest charing the handle over a charcoal fire and finishing it with straight linseed oil for a better grip.Again, a bargain at the price offered.
That it's very reliable
I love the way that it looks and feels in my hand
100% quality
Vary sharp edge. The craftmenship is outstanding, feel it in your hand and you know you have something specal. Cant wait to start using it, The leather edge cover and ax holster are beautiful and fits well. Cant say too much about it. This would be an excellent gift or something to pass down.
Great service
Had an issue with the first hatchet but beavercraft has great service and they sent me another and it's perfect. Great people and product
Almost perfect.
I ordered this little axe for roughing out spoons, kuksas, and the like. It has enough heft without being heavy. The bevel is set so it bites and not deflects. It is hung tighr on a nice ash handle. As a bonus it is a nice looking little axe. Like I said almost perfect.