AX2 – Compact Wood Carving Adze

10 Years Guarantee
This product carries a 10 years guarantee from the original purchase date.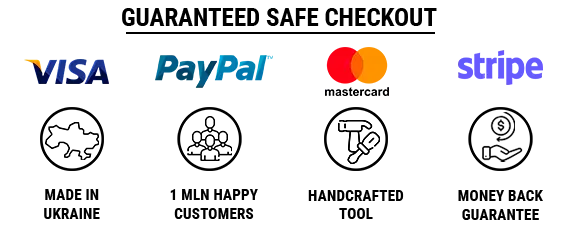 Unleash the full potential of your wood carving projects with the AX2 Compact Wood Carving Adze – a remarkable tool that delivers unmatched precision and performance. With its innovative design and exceptional craftsmanship, this adze will revolutionize the way you carve and shape wood.
Crafted from the finest materials, this adze features a curved blade at a perfect right angle to the handle. This unique feature makes it an indispensable companion for smoothing and carving wood and removing material from the inside of small bowls, large spoons, kuksas, ladles, and countless other woodworking projects.
The adze blade is forged from premium-grade 1066 high-carbon steel, renowned for its strength and durability. With a 56-58 HRC hardness rating, this blade maintains its sharpness even after prolonged use, ensuring effortless carving with each stroke. The securely fixed blade guarantees stability and allows you to undertake intricate carving projects confidently.
The handle is constructed from Ashwood and treated with linseed oil and wax, ensuring durability and the ability to withstand even the most demanding woodworking jobs. The ergonomic handle shape prevents the adze from slipping, while the perfectly balanced design provides safe, comfortable, and efficient use.
Thanks to the genuine leather sheath and belt loop included, transporting and storing your wood carving adze is a breeze. The sheath makes it easy to take your adze on the go and provides added protection for the blade, ensuring it stays sharp and ready for your next project.
Dimensions of the tool:

Total length - 295 mm (11.61 inches)
Blade length - 170 mm (6.69 inches)
Blade width - 60 mm (2.36 inches)
Handle material - Ashwood
Sheath material - Genuine leather
Amazing tool
I just received my adze through Amazon. It was like Christmas morning unboxing it. When I had it in my hands feeling the weight and balance I knew this was a serious working tool. The craftsmanship is superb. The edge is razor sharp. The leather blade guard and belt hanger are finally crafted of quality materials and fit the tool nicely. I can't wait to create something with this tool.
Dear Matthew,
We are thrilled to hear about your experience with the adze you received through Amazon!
We can't wait to see the incredible creations you'll make with this adze.
We work hard to ensure that our tools are not only functional but also a joy to use.
Your feedback inspires us to continue delivering top-notch tools, and we look forward to being a part of your creative journey. Happy crafting!