BB3 - Spoon Carving Blanks Set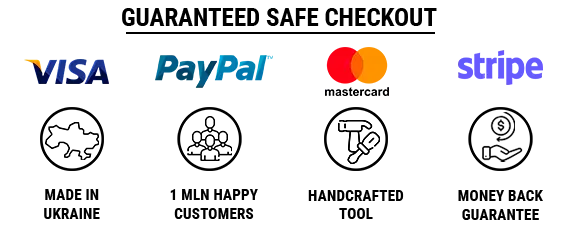 Transform a simple wood block into a beautiful work of art with the BB3 Spoon Carving Blanks. This set includes four equally sized wood blocks, each made from a unique type of wood: Elm, Apricot, Maple, and Alder. The distinctive properties and characteristics of each wood allow you to create spoons that showcase their natural beauty.
Elmwood is a true masterpiece for spoon carvers, with a stunning grain pattern and visible annual rings. While it can be challenging to carve it due to its hard texture, the results are worth the effort.
Apricot wood is dense and wear-resistant, making it perfect for spoon carving. The intricate pattern is visible on all cuts, creating a mesmerizing contrast that will add depth to your spoons.
Maple wood is a popular choice due to its easy-to-work-with nature and resistance to splitting. Its light color provides an excellent backdrop for intricate spoon designs, while its texture makes spoon carving an effortless and enjoyable experience.
Alder wood is another excellent option for spoon carving, thanks to its medium-hard and uniform texture. The light-colored sapwood transitions into the dark brown core, creating an eye-catching, unique, and mesmerizing contrast.
Making spoons with the BB3 set is a joy, thanks to the knot-free wood blanks that are easy to work with. Each spoon blank is carefully processed and selected by skilled artisans to ensure the highest product quality. Whether you're a seasoned carver or just starting, the BB3 Spoon Carving Blanks are a must-have for any woodworking enthusiast.
Discover the art of spoon carving today with this exceptional carving kit!
Dimensions of the blanks:
Total length — 165 mm (6.5 inches)




Blank width — 40 mm (1.57 inches)




Handle width — 22 mm (0.86 inches)




Handle length — 115 mm (4.5 inches)



The set includes 4 blanks of different wood types:
Elm, Apricot, Maple, Alder