BSH1 Dune – Carbon Steel Bushcraft Knife Walnut Handle with Leather Sheath
Emily
Got this as a gift for our son, but I might just keep it for myself. Nice quality. Beautiful. Sharp blade. Don't know how long the blade will hold its edge yet.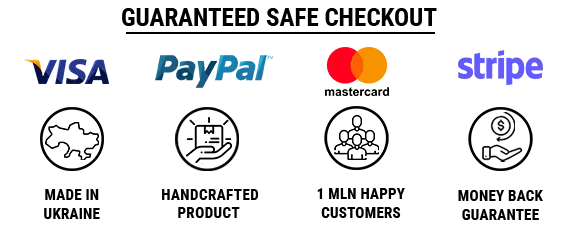 Are you looking for a reliable companion for outdoor adventures, survival, and fieldwork in the wild? Look no further! This full-tang bushcraft knife with a fixed blade is the ultimate tool you will need for hiking, hunting, fishing, or setting up your campsite.

Whether you are a bushcraft lover, a hiking enthusiast following rugged trails, or a camping fun fan, our BSH1 Dune Bushcraft Knife is always the centerpiece of your tactical and survival backpack.
The durable knife design, combined with the finest materials, makes this knife a top survival tool for all outdoor activities – from camping and BBQ to wood carving and bushcraft. It has a sturdy, ultra-sharp blade, perfect for carving wood, cutting rope, opening cans, cooking your meal, making crafts, and shredding wood to start a campfire.
The knife has a smart handle design with a bit aggressive look. It is ergonomic and nonslip and provides optimal accuracy in use (your hand will not get tired, even after long bushcraft work). It comes with a cowhide leather sheath for easy and safe carrying while hunting, fishing, or backpacking.
This bushcraft knife in front of you will become a gem in your pocket (or inside a leather sheath that you can clutch to the belt) because of how practical and stylish it is. Carbon steel makes it a perfect helper in everything you may require, and the European walnut handle is pleasant in your hand.
Specifications:
Total length – 270 mm (10,63 inches)
Blade length – 125 mm (4,92 inches)
Blade width – 30 mm (1,18 inches)
Handle length – 145 mm (5,71 inches)
Steel material – 1066 Carbon, 57-59 HRC
Handle material – European walnut
Sheath material – Cowhide leather
Beautiful knife
What an amazing knife! Very well constructed, it looks great and feels great. The handle fits in my hand very comfortably. It also comes with a very nice high quality leather sheath.
Count me impressed
For the money, it would be difficult to beat this knife. I have several 150-200$ knives that are top shelf quality. I'm not saying this knife is on that level. But to get in the Bushcraft/Survival arena with as little investment as possible and still get a nice quality knife, this one is worth the price for sure. The sheath is as good as some that I've paid 35$ alone for. The knife itself is a bit raw, but holds up under tough applications and won't break as easily as other brands that just try to look cool. This one actually delivers the goods. For the money, I would highly recommend this one.
Great beginner bushcraft knife.
Super well made knife for the price. It's sharp out of the box and fits most beginner bushcraft or hunting needs. I have other knife such as the wood carving tools and really enjoy the brand.It does come oiled up so it does need cleaning and regular cleaning so it doesn't begin to rust but in all a wonderful knife.
Great knife, great company, and great customer service.
The sheath is crafted from beautiful and thick leather with an extra loop for your belt. The knife itself is forged out of strong, heavy steel that is perfect for the abuse I will be putting it through. Something I also really like is I'm a craftsman myself and always love to have different wood patterns or species on my knife handles and this knife gives you the ability to easily remove the stock handle (which is already pretty comfy) with a few Allen bolts. I can then go and make a new handle easily if I ever want to or switch out handles.
Great Knife
I really like the way the handle fit my hand.Handle sparked easily on flint.Needs sharpened a bit. Good sheath
Love the handle
I love how the handle feels in my hand. Extremely sharp. Processed some hardwood into tinder, and kindling. Worked great!!
Sharp with a nice sheath.
The blade and handle or average, and it comes sharp. Good grip on the handle. I particularly like the sheath. It is well made and has two options for attaching. It's an affordable nice knife.
the HOLY GRAIL of 5" bushcraft knives
My favorite new EDC woodcraft knife! The BSH1 has everything I've wanted in a "bushcraft" knife and so much more! An insane amount more at this price point, I'm beyond impressed! If you want to know if I'm satisfied with the overall product, then read until the end for the answer.At just about 5 inches long, the BSH1 blows all other blades in this size range right out of the competition. Using a thinner blade stock (at a glance it looks to be the ideal thickness for me at 1/8 of an inch, or just under 4mm) it's not too heavy and fatiguing or too thick for making fine cuts. Highly and expertly polished (which increases performance with smoother cuts through material i.e. wood, etc.), it preforms like a super car, as I run it down the side of a stick pealing away the finest curls. The primary cutting edge is scandi ground (which I prefer for carving), but has a slight convex roll to it, giving you the best of both worlds for flat, close cuts, and being forgiving and not biting in too deep if you don't want it to. The cut material just glides effortlessly up and away from the slight clamshell shaped edge. It's not overly rounded either, I'm able to easily cut deep and precise at will.The 90 degree spine lends well to striking a fire steel, it also does great at removing bark to preserve the edge and at scraping for extra fine tinder material.Of course it is a full tang blade that has an aesthetically and functionally beautiful walnut handle. The handle scales are expertly contoured and sanded. There are no hotspots that I've found using it for hours now, and all "corners" are tapered and sanded in the transition to the "flats" of the handle. That again is a must for me when it comes to a knife I'll be using day in and day out. The handle's features just get better from there, because as it leaves your grip, it drops down gently at what looks like a 45 degree angle and widens out like the handle of your favorite carving axe or hatchet. So "choking"down on the handle gives you the perfect angle and leverage for light chops if you need them, and creating a natural stop to keep your hand locked in and from sliding off and losing the knife in a dangerous fashion. There's also lanyard hole at the bottom of the handle for added safety if you want to fashion a lanyard.Now we get to the sheathe, something I consider a deal breaker on any knife. You could have the best knife ever constructed, but if the sheathe is clunky or inefficient, it makes it where I can't or won't want to carry the knife. BeaverCraft doesn't leave you disappointed here either, in fact, it made me love the knife even more! It's a deep seated carry from a solid peace of beautiful, soft and supple leather. The sheathe leaves about an inch and a half to two inches of handle exposed, protecting and securing the knife. It has a primary belt loop that is securely attached at both ends with pleasing to the eye and touch brass studs, and a dangler loop with brass hardware also. My favorite part of the sheathe is that the dangler loop can be "opened" for ease of use in removing and securing it to your belt or backpack strap, or whatever you want, via the brass stud that works kinda like a button. You just push it through the hole in the leather on the opposite end of the loop, securing it to whatever you are attaching it to. Just for a little mindfulness when doing so, remember to make sure it is securely attached and oriented correctly once "buttoned" closed. I had it on my belt for hours while I attacked a fallen tree with my Agawa Boreal 21" buck saw for over an hour non stop. Never lost it once to all the sawing and bending, jumping over and hauling off the logs.Addressing the best part is that this hand forged custom work of art, is under $50 U.S.!!!!!! Just in case you want to know who I compare this to, we'll just google "bushcraft knife," I'll wait…………………….Yeah! All of those!! I own quite a bit of knives that you've probably just seen, and most of those are left inside as I take my new BSH1 with me on every outdoor adventure now!So in conclusion, I not only LOVE this knife and sheathe combo, but I HIGHLY encourage any and all fans of knives, outdoors and camping, woodcrafters and bushcrafters, cooks and just the curious that might be interested in all the afore mentioned fields, or anyone that needs a knife, to get this knife! You will not be disappointed. This is something you can pass on to your children and their children and it will preform for them just like it did the day you got it, especially if you pick you up one of the many great and affordable strops from BeaverCraft! Can't say enough great things about them! Check them out on YouTube and instagram for FREE instructional videos.
Solid, well built knife.
Nice and heavy, but well balanced. Perfect as both a camping and hunting knife.
Beautiful, great quality knife.
The quality of this knife is spectacular and it looks great too. I've used it a couple times already on camping trips and it's able to break up large log piece and cut through rope with ease. The holder makes it easy to carry around for quick access. I would recommend this knife to anyone.