BSH4 Dusk - Carbon Steel Bushcraft Knife Walnut Handle with Leather Sheath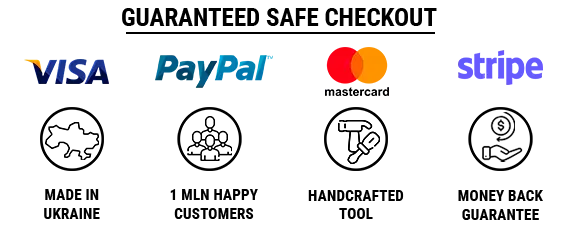 Total length — 250 mm (9.84 inches)




Blade length — 125 mm (4.92 Inches)




Blade width — 35 mm (1.38 inches)




Blade thickness — 3.5 mm (0.14 inches)




Steel material — 1066 Carbon, 58-60 HRC




Handle length — 125 mm (4.92 inches)




Handle material — European Walnut




Sheath material — Genuine leather



Are you searching for a multi-purpose survival knife catering to your outdoor needs? Look no further! This exceptional bushcraft knife with a full tang and a sheath is an all-in-one tool that's perfect for traveling, camping, hiking, and even hunting.

The ultimate outdoor tool for adventure enthusiasts is the BeaverCraft BSH4 Dusk Bushcraft Knife. With a robust carbon steel blade boasting a 58-60 HRC hardness and 3.5 mm (0.14 inches) thickness, this knife guarantees effortless cutting and long-lasting sharpness. A unique metal coating shields the blade from rust and corrosion, making it highly durable and long-lasting.

Crafted from premium European walnut, the BSH4 Dusk knife handle ensures a firm and comfortable grip even in damp conditions. Its ergonomic design adapts well to the hand, minimizing the risk of fatigue during extended use. The three-rivet handle scales are replaceable if needed.

Featuring a full-tang construction, this knife offers exceptional strength, balance, and stability, making it ideal for heavy-duty outdoor work. The blade's back is designed for scraping flint rods to create sparks and start a fire. The blade spine's jimping provides optimal finger traction, ensuring a secure grip. The convenient paracord lanyard hole makes it easy to carry around.

The BSH4 Dusk Bushcraft Knife is perfect for various outdoor activities such as camping, hiking, wood carving, bushcraft, and survival. Its robust design and superior materials make it a top-tier survival tool that cuts efficiently while maintaining its sharpness for a prolonged duration. The knife is accompanied by a genuine leather sheath with belt loop attachments, keeping it in excellent condition and always within reach.

Make sure to compromise on quality - choose the BeaverCraft BSH4 Dusk Bushcraft Knife for the best outdoor adventure experience!
An Excellent, Heavy Duty Knife
The BSH4 is a go anywhere, do most anything kind of knife. It's stout enough to be truly durable but also lightweight enough to be tossed onto a belt or into a pack and be taken on any adventure. The blueing is very well done and has done a great job at preventing corrosion or staining while still also allowing the patina to continue developing with use. The handle is comfortable, the edge geometry great (especially for cutting wood), and the sharpened portion of the spine forward of the jimping excels at striking a ferrocerium rod or scraping tinder material.
Dear Jason Wise,
Thank you for taking the time to provide your feedback on the BSH4 knife. We greatly appreciate your positive comments and are delighted to hear about your satisfaction with its performance.
We designed the BSH4 to be a versatile knife that can handle various tasks, and we're thrilled to know that it has met your expectations.
Happy adventuring!