C16 – Big Roughing Knife

10 Years Guarantee
This product carries a 10 years guarantee from the original purchase date.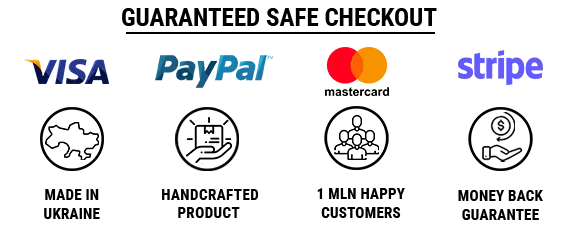 BeaverCraft's C16 Roughing Knife is ideal for those new to woodcarving, boasting a sturdy, curved point and straight blade, perfect for tackling tougher stock! This top-notch tool is crafted with precision, made to glide through soft and hardwood effortlessly. A non-slip Ashwood handle ensures a firm grip over extended use, allowing you to continue carving for hours in comfort.
Specifications:

Total length – 170 mm (6.55 inches)

Blade length – 50 mm (1.96 inches)

Handle length – 115 mm (4.53 inches)

Handle material – Ashwood
GREAT Quality
Very good knife, sharp out of the box! Easy to handle and a super value compared to other brands I've purchased.
Super tranchant
Je débute et apres avoir acheté du (bon marché), qui m'aurais dégouté de la sculpture sur bois , j'ai regardé quelques vidéos conseil de personnes aguerris, et la j'ai compris qu'il ne fallait surtout pas acheter n'importe quoi, sous prétexte de faire de fausses économies .Une lame solide et un tranchant digne d'un scalpel, (attention les doigts),et la malgré mon inexpérience le bout de bois a enfin pris la forme que j'attendais .Pour le reste, livraison très rapide, j'attend avec impatience mon kit, deux autres couteaux plus le nécessaire d'affutage de la même marque bien sur encore merci.
My favorite knife
I am very new to wood carving and I started with a 3 piece set first by Beavercraft but also got this one, and now this knife is the only one I use. It's comfortable to hold and easy to use.
Calidad precio increíble
Muy buen cuchillo para como indica el nombre pequeños detalles viene super afilado y la geometría de la hoja me encanta, espero que esta marca saque mas variedad de herramientas al estilo de Flexcut 10/10
Price + Quality = WIN
As is typically the case with carving knives and gouges, increased price doesn't necessarily equal increased quality. Thankful for the affordable little treasure.
Scarey sharp!
I purchased 2 detail knives and they arrived ready to carve.I would not consider these beginner knives or for kids because of the sharpness.They hold the edge as well as other so called higher end knives that i use.Just stropping brings the edge back to shaving sharpness.I was skeptical buying these until i purchased 2 different detail knives and put them into action.No disappointment with these whatsoever.
My favorite
I do mostly smallish carving/whittling projects on poplar, butternut, basswood and cedar. This is my go-to favorite knife. It has a flexible, thin blade that has also proven to be very durable. I occasionally work it hard, and they have obviously got the tempering right. It has proven to be both flexible and strong over time. I only strop to polish as necessary, no other edge maintenance required. This is the only blade I use to set stop cuts, so very fine, clean and deep.... I have no idea why they refer to this as a beginners knife...because it doesn't cost $75?? Sign me up as a beginner I guess... I hope to be using this blade 20 yrs from now. It doesn't have elite name swag, but this is a very nice knife. Peace,
Very nice knife
Very sharp forcutting my wood at a great price.
Awesome!
This is my favorite one of all the ones that I have.