C1 Kid – Whittling Knife for Kids and Beginners

10 Years Guarantee
This product carries a 10 years guarantee from the original purchase date.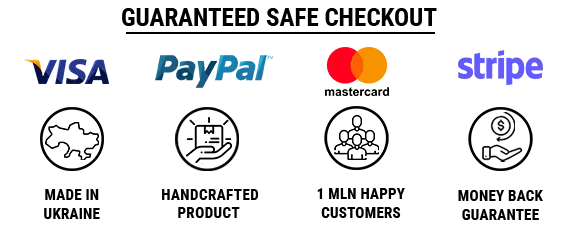 Children need to learn new skills. It's much safer, healthier, and wiser to instill your kids an early 'knife culture' than to let them grow up ignorant.
Parents often ask us the same question – which whittling knife is safe, effective, and comfortable for kids? What should be the perfect first woodworking tool for a young whittler? Now we are ready to answer. It is our brand-new whittling knife model designed especially for children.
This BeaverCraft C1 Kid Whittling Knife is designed with safety in mind. Its design includes a special guard to keep the kid's hands from slipping onto the blade and a rounded tip to prevent injuries (cuts and scratches). Despite the apparent safety, this woodworking knife is functional and sharp. It is perfect for all whittling jobs and is a one-stop solution for many craft hobbies. With such a knife, your kid can effectively carve wood and create easy whittling projects for beginners.
This wood carving knife for beginners has a robust carbon steel blade of high quality and a durable and ergonomic handle for a secure and comfortable grip. Our kid-safe woodcarving knife comes with a genuine leather sheath to provide maximum safety and protection for your kid.
Children tend to copy adults. So if you treat your wood carving knives with respect, care, and precision, your child will do the same. Give your kids this C1 Kid whittling knife for beginners, and let them develop their creative potential with BeaverCraft.
Specifications:
Total length – 155 mm (6.10 inches)
Blade length – 50 mm (2.16 inches)
Blade width – 15 mm (0,59 inches)
Handle length – 105 mm (4.13 inches)
Handle material – Ashwood
Sheath material – Cowhide leather
C1 knife
Just received my C1 knife and I couldn't be happier. The craftsman ship with Beavercraft is top notch as usual.Received it in a very timely manner. Always a pleasant experience when dealing with Beavercraft and their products.
Wonderful
My boys loved their camping knifes!! Love that they are flat on the tip so no risk there. I even loved carving some wood sticks!! They were entertained for hours . We got them for our camping trips and are going to last !! You do need to be careful because they are sharp but under supervision they are great.
Great Tool for Beginners!
I own many pieces from Beavercraft, and this one is no exception to the standard they set for their products. The steel is nice and hard, it takes and holds an edge perfectly, and the handle fits well into the palm. Two features I like included with this kit are the finger guard to protect from slips, and the leather case to guard the edge while being carried or stored. If you want a knife for young or small hands, look no further.
Just as described
Purchased for nine year old grandson who just started whittling/carving in Boy Scouts. It's easy for him to hold and works well, it's a great beginners carving knife. We also purchased a protective glove for him to ensure safety
Love the leather knife cover
Nice starter knife. Comes sharp and ready to use.....great size for small hands.
Great value.
Much better than the generic options
Nice knife
Very nice knife I can't wait to have my kids try it out. This is one of several knifes I own from beaver craft and I have to say they always work fantastic and BeaverCraft has the best costumer service.
Great beginner knife
I am very pleased with the knife, it came super sharp. The handle is perfect size for my son. I really like that it has a finger guard and rounded tip for safety. This is a great beginner bushcraft/whittling knife!
Great!
What a great concept! This is an really good way to introduce a youngster into wood carving. The product is very good quality, as is all of the Beavercraft knives I have…. they just make great products, at very reasonable cost, and their customer service is excellent. I got this particular one for getting my grandkids into carving, and hopefully as a spark to enjoy all woodworking. Could not recommend this and other Beavercraft products more highly!
Good knife for kids
A good knife for children. Offers a smaller handle comfortable to hold. The blade and handle is smaller allowing better control for kids. The guard is a nice addition for safety. I did notice the knife wasn't as sharp as my other beavercraft knifes but gets the job done especially with some stopping. Seeing as it is a knife for kids I would prefer a set of cut resistant gloves as extra safety measure. Fortunately I do have some. That being said the knife seems pretty nice for a kids first carving knife. And would make a good Christmas gift.