DIY02 - Dala Horse Carving Kit - Complete Starter Whittling Kit for Beginners Adults Teens and Kids
$44.99
$35.99
Sale ends on ,

10 Years Guarantee
This product carries a 10 years guarantee from the original purchase date.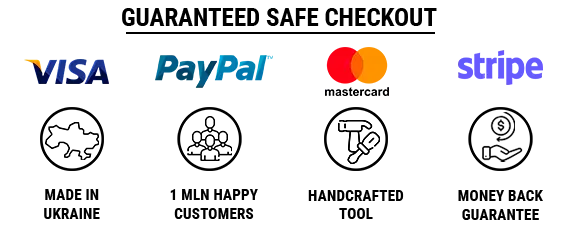 Isn't it great to find a versatile art craft kit that you can use in your new exciting hobby and as a gift to a family member, friend, or colleague with a creative mind? Whether you're a DIY project lover, a wood carving enthusiast, or looking for new wood craft ideas, our BeaverCraft DIY02 Dala Horse Carving Kit will be an interesting find.
Spending quality time with your loved ones is easy! All you need is a starter kit for fun hobbies. With our all-in-one BeaverCraft DIY02 carving set, you can have fun creating a one-of-a-kind Dala Horse wood sculpture with your family or friends.
In such a set for creativity, you will find all the necessary tools, materials, and additional supplies (accessories for sharpening knives and other cutting tools). No matter what gender or age, this carving kit will captivate everyone equally. And this handmade Dala Horse carving will be a wonderful wooden toy for a kid, a unique interior element, or a decorative ornament as a gift. Our BeaverCraft DIY02 craft kit gifts will be the best start to mastering such a wonderful art as wood carving.
What does our whittling kit include?
C14 Whittling Knife

Horse Blank

Pencil + brush + paints

Sandpaper P150 (2pcs)

Leather Strop + polishing compound

Safety Tape

 
Good knife cutout questionable
The grain was running the wrong direction on the Dala horse making the legs easy to break off.
So far. Wow.
I have just received the package.And let me tell you, when the manufacturer cares about your safety and includes Band-Aids and safety tapes in the package, I say - that is 5 star manufacturer.
Birthday gift for granddaughter
She likes to whittle, she is only 10. She watches her wood working Dad. He will be helping her.
New to whittling
We always try to give our nephew something crafty to do. This was perfect as he is in Kansas and his dad and mom went to school in Lindsborg so the Dala horse is perfect!
Nice kit
I love this cute little craft wood carving kit. It is a cute little Swedish dala horse. It has everything in here to get to going. You get the little horse Tools and paints create and have you're done you have a nice little knick knack for your shelves. A very practical kit for adults And it will make a nice gift to.
Tel que décrit
Je vous conseille d'acheter des gants anti coupures pour les débutants. Le tape qui est fournis aide beaucoup, mais l'intérieur de la main est à risque avec le mouvement qui doit être fait. Je parle d'expérience.... Sinon, le cheval est vraiment cute et pas trop compliqué à réaliser.
Paint isn't enough
I enjoyed every part of it even though it's really tough to do. One reason to deduct a star, the paint wont be enough to paint the entire horse (base color whichever one you choose, and the paint brush is too thick for detail painting..
Great kit / Awesome knife!
I've waited a few weeks to review so I'd have solid, real-world experience to offer as feedback. The kit is packed with everything a beginning whittler/carver might need & is super easy to understand & use. They care about safety, too, as printed safety instructions & a roll of prevention tape (& bandaids) are included.Here's the kicker: the whittling knife that comes with the kit is OUTSTANDING! It absolutely is my new go-to for removing lots of material when roughing out a new carving. It's rock solid sharp & comfortable to hold. Combined with my earlier purchase of their 3 knife whittling/carving set makes me feel prepared to tackle any project.I totally recommend! Plus, signing up for the BeaverCraft newsletter & Instagram feed adds to the experience. They share tutorial vids & project patterns/templates. They really seem to make personal connections with their customers.
Great kit for beginners
Full disclosure, I received this kit as part of a promotion. That said, I honestly do want to recommend it. The kit is incredible comprehensive for the price point. Some reviewers think it lacks this or that.. which you could certainly upgrade things.. but for the price point, you're getting alot. My only real complaint is that there's so much in the box, its hard to get it closed after you open it and take a look.I've been working wood for nearly 30 years. And carving is not a hobby for everyone. Its also not just sharpening a stick. If you're looking for an inexpensive way to check out this hobby. The kit has all the basic supplies you need. From wood to a knife.. to bandages for the inevitable nicks and cuts that will happen as you learn. This kit includes both an instruction book, and link to a video guide.For the price, this is a very complete kit and a great place to start. If you find you like the hobby, you can keep using the kit, and over time slowly add/upgrade. But as a starting point, this kit is just about perfect.
All inclusive and more!
This was more than I expected! It was a surprise that it came with a strop and a knife! Even had finger wraps for safety and bandaids incase you nic yourself. I was really impressed, it's a great gift for anyone looking to get started in the hobby. It literally has EVERYTHING you need to see this project through from start to finish!