DIY04 - Celtic Spoon Carving Kit - Complete Starter Whittling Kit for Beginners Adults Teens and Kids
$49.99
$44.99
Sale ends on ,

10 Years Guarantee
This product carries a 10 years guarantee from the original purchase date.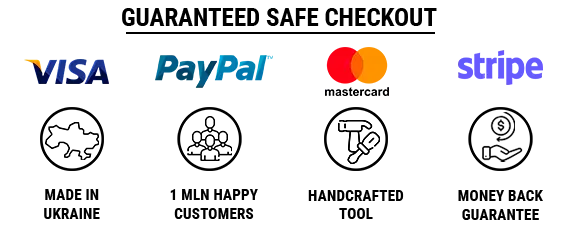 The choice of gifts is an eternal problem. You always want to pick up something beautiful, original, and at an affordable price. A hand-crafted gift can be your perfect solution. It always looks interesting, beautiful, and original. Such a gift will please even the most demanding recipient, especially if this gift is a Love Spoon carved out of wood. Such traditional Celtic carving is a symbol of love, appreciation, and devotion. It is always unique and inimitable.
Whether you are into crafts or just looking for a beneficial hobby, our BeaverCraft DIY04 Celtic Spoon Carving Kit will definitely impress you. With this art craft kit, you can learn new types of creativity, practice and hone your wood carving skills, or make a unique gift with your own hands according to our instructions.
Our complete starter whittling kit for beginners has all the wood carving essentials to meet all your needs: various carving knives and tools, wood blanks, and a detailed carving guide.
The BeaverCraft DIY04 Spoon Carving Set is a wonderful gift for your family, colleagues, friends, or classmates. It is the perfect DIY kit as it includes everything you need to carve a Lovespoon in one compact box.

What does our whittling kit include?
Razor Sharp Wood Carving Knife + Spoon Carving Knife

Basswood Spoon Blank

- Leather Strop + Polishing Compound

Safety Tape

Sandpapers

Step-by-step Booklet

Video Guide
Good kit
The tools are really nice quality. I really like this kit. And i made a nice spoon!
Looks like everything.
Looks like everything you would need to carve the spoon. The knives came wrapped with protected blades, there is a little stencil, a ruler, a sketch of the spoon to put on the wood, a strop and some wax. It is the more complex of two kits I got, so won't be tackling it until I try the other one.
good and bad
a little much for a 1st time carver but was fun
Tolles Set zum Starten
Ich glaube beim Set stand für Fortgeschrittene, aber ich liebe DIYs und komme sehr gut klar. Die Anleitung ist sehr gut, alles was man braucht ist drin im Set. Abziehleder nutze ich, wie online empfohlen, öfter als in der Anleitung beschrieben. Tip Top würde wieder von Beaver Craft kaufen!
Sehr gut für Einsteiger
Alles drin was man braucht
For Dedicated Beginners
I suffered a terrible concussion and couldn't do anything involving screens, so I decided to pick up a new hobby. This was my first time carving anything! It took me 12 days to complete, but I was often hypnotized and found myself carving for 5 hours straight. With the booklet, the video, and creative intuition the pattern itself was quite easy to follow. The real challenge was the negative spaces, but by the time you are at that point in the project you have already honed your skills. Since this project I have purchased more items from BeaverCraft, Deluxe Wood Carving Kit S18X, LS5P1 Wood Carving Strop, and BW18 pcs Basswood Carving Blocks.
Excellent easy to follow instructions
I like the instructions and the patterns. The tools are of a good quality and affordable for beginners. These will make great gifts.
A great carving kit
I've been doing relief carving for a couple years and this was my first time trying this type of carving. The kit comes with everything you need. The directions were a little vague. Look up their YouTube videos for a better instruction guide. This was a little challenging for a beginners kit. Carving the openings was not easy and took quite awhile. The kit is nice quality and including the knives for future spoon carving is a nice feature. I really liked the kit overall and recommend it and the company.
The kit has everything and the instructions were perfect . Thanks Mike Irwin
Instructions and template works well and the wood is easy carving. Complete in a week I impressed myself. As with everything I have ever received from Beaver Craft the kit is top notch. I've already completed it and it turned out great. Thanks Mike Irwin
Great kit
This is the way to go for beginners!Contains everything needed.