DK2S - Drawknife in Leather Sheath

10 Years Guarantee
This product carries a 10 years guarantee from the original purchase date.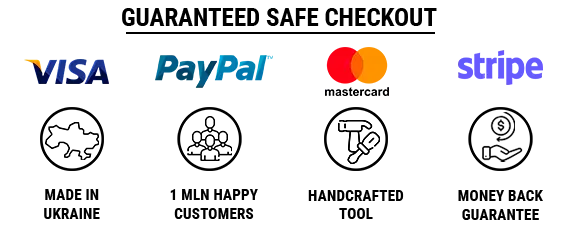 Blade length - 120 mm (4.72 inches)
Blade thickness - 3 mm (0.12 inches)
Handle length - 105 mm (4.13 inches)
Total length - 330 mm (12.99 inches)
A drawknife (drawing knife, draw shave, shaving knife) shapes wood by removing shavings. This drawknife is a perfect tool to remove not large wood slices for flat faceted work. This shaving knife is designed for planning faceted parts or shaping a small circle. The blade has a thickness of only 3 mm since this knife is designed for finishing delicate work. BeaverCraft offers you an exclusive leather sheath for the drawknife. Don't be afraid to get cut while pulling the knife out of the box because your tool has a leather knife sheath.
The blade is made from durable high-carbon steel, hardened and well-sharpened. The handles are made from Ashwood and covered with natural linseed oil.
Top
Top Teil. Liegt gut in der Hand und ist sehr scharf. Macht Spaß damit zu arbeiten.
All around awesome
The craftsmanship is superb and the handles feel so nice in my hands. It's beautiful. But what really won me over was the inclusion of adhesive bandages 😂 5 stars right out of the box!
Good budget starter
Great little tool to see if you like it. I hauled on it pretty good for a few hours and got quite a bit of work done for a manual tool. It comes sharp but dulls quite quickly, I stopped to sharpen twice in 3 or 4 hours of work. It's definitely not a heavy duty knife, don't expect to get more than what you paid for. If I finish this project and start another I'll spend more $$ for a higher quality one.
ウクライナを応援
ウクライナ製のものを買って応援したい。それは別にしても、ドローナイフは珍しく、もっと高価なので、この商品は安価で、他のドローナイフより小型でグリップも刃に対して水平でかさばりません。木細工・加工なら1つ持っていてもいいかも知れません。星のマイナスは、おそらく検品の為と思いますが、箱が開封されて商品が飛び出ていました。せめてプチプチで巻き直しておいてほしい。これはメーカーのせいではないと思いますが。あと、ウクライナの絆創膏が入っていました。ナイフの箱に入っていたならオマケだと思うのですが、裸のままだと異物混入のようにも思えて少し怪しいです。とにかくアマゾンさんは梱包をきちっとして下さい。検品の為とはいえ開封すれば僅かでも「中古」に寄ります。
sehr stabil, scharfe Klinge
Habe ein Zugmesser gesucht um Anfeuermaterial für den Kamin selbst herzustellen. Bin sehr zufriedenKlinge ist scharf ,Griffe sind gut verarbeitet. Klar die Arbeit ist anstrengend rentiert sich aber für mich.
Good Blade
Used to form a wooden spoon handle, made easy work of a hard piece of maple
Sculpture sur bois
Parfait, rien à redire merci
Super Service
Tolles Zugmesser mit einer ausreichenden Grundschärfe, ein paar Minuten über meine Wasser Schleifsteine gezogen und die Schneide hat gespiegelt.Leider ist mir das erste Messer auf Grund von Material Schwäche am Griff gebrochen. Nach kurzem kontaktieren des Herstellers wurde schnell und unkompliziert ein zweites geschickt.Immer wieder gerne.
just want i needed
I needed a way to remove some bark from a live edge cutting board and this did the trick flawlessly
Fast on the delivery
Little thing is really sharp it's an amazing draw knife I wouldn't change it for all the world I wish there was a bigger ones