P12/02 - Palm - straight V-Profile chisels sweep №12

10 Years Guarantee
This product carries a 10 years guarantee from the original purchase date.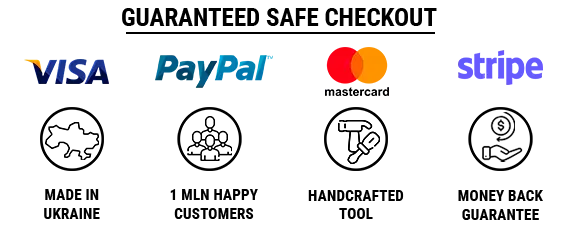 Blade width – 2 mm (0.08 inches)
Blade angle 

–

60°
Total length – 140 mm (5.51 inches)
Blade length – 75 mm (2.95 inches)
Handle length – 65 mm (2.56 inches)
BeaverCraft palm-size straight V-profile chisels sweep №12 have 60° angle for deep and fine lines carving. Comfortable small handle lays comfortable and steady at any hand. Wood carving chisels BeaverCraft are razor sharp and ready-to-use right out of the box. Made of high quality carbon steel. Sharpened and honed manually. You can use such tools for both softwood and hardwood treatment.
Handle is made of Ash and oil impregnated. Should be used for precise manual treatment only, excluding hammer and mallet use. It is convenient to use and good for long usage. BeaverCraft chisels are handcrafted both for beginners and professional wood carvers.
I bought it as a gift for my boyfriend, also a V shaped chiesel, wanted to keep it pretty basic and minimalist. I can just say that he carries it everywhere, we are very happy with the quality of the product!! it is sharped, please use gloves if you are a beginner as well. Thank you very much for helping me pick exactly what I was looking for and for keeping this job alive!! it's very beautiful🏞️
good tool ,read this
vary good ,easy to sharpen , I love BeaverCraft
Good wood gouge, not very sharp but easy to sharpen
Good tools, sharp and easy to maintain
sehr gut geschärft
Man kann nur kleine Ritze damit machen.Wie lange die Schneide hält kann ich noch nicht sagen, da ich es einen Tag etwas im Einsatz hatte.
Exactly what I wanted
I bought the whittling tools for my husband's birthday, and he is very pleased.
schnelle lieferung un sehr gutes schnitzwerkzeug
How to sharpen the chisel
Il loro marchio è una garanzia. Spedizione lenta, ma se considero quello che sta succedendo da quelle parti sono contento che stiano lavorando. Spero che possano continuare a vendere i loro ottimi prodotti anche per gli anni a venire