PW1 - Polishing Wheel
$25.00
$19.00
Sale ends on ,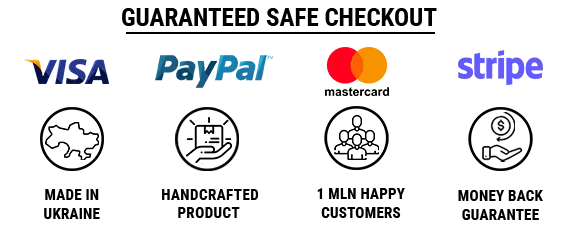 Diameter – 76 mm (3.00 inches)

Width – 19 mm (0.75 inches)

Tang diameter – 7 mm (0.28 inches)

Tang length – 30 mm (1.18 inches)

Material – natural leather
The leather wheel is made of high-quality leather. The front edge of the stropping wheel has a low pile as well as the side surface of the knife sharpening wheel. Just how it should be for aligning the razor sharpness with your tools.
You can use the leather polishing wheel for all your knives (wood carving knives, kitchen knives, pocket knives), all your chisels and gouges, mini bench grinders, sloyd knives, hook knives, chip carving knives, draw knives, long hook knives and so much more.
Every woodworker will be happy to get such gift as BeaverCraft knife polishing wheel because for spoon carving, bowl carving, general roughing wood out, delicate chip carving or other types of wood carving you should have super sharp wood carving knives and this leather sharpening wheel is exactly the one that makes sharpening process easier and quicker.


This buffing wheel made out of natural leather will become an irreplaceable helper to you, especially if you are tired or bored of stropping the tools all the time and want to spend less time doing it or at least do it faster when the need occurs. The
leather stropping wheel
usually gets used together with any power rotary tool or a dremel, for example. The hole in the middle allows you to put it on the tool, then you lock it down - voila, the
leather sharpening wheel
will be ready to be used! 

Using the polishing paste with leather stropping wheel
When that
strop wheel
is attached and locked down so you are sure it's ready for use, turn the power on. Lock the rotary tool you're using on the workbench using clamps, for instance, and grab that polishing compound you are using.
With this
sharpening wheel
you'll get our green-gray polishing compound that will make your blades shiny and mirror-like. Gently slide the green-grey compound across the wheel while it's rotating until the whole surface (the narrow one!) is covered. It's kind of similar to painting with crayons, so remember the time you used the crayons for the last time and imitate the same.


Polishing with strop wheel
Now that your tool is locked and the wheel is prepared for stropping, grab the tools you plan to treat this time and gently slide them left and right on the wheel so that the compound gets onto the bevel and with the wheel rotating gets polished. If you can't really imagine how it should look, welcome to our YouTube channel where we uploaded the video on working with such a tool.


Usefulness of sharpening wheel
Having a stropping utensil like this is greatly practical. Sometimes you do enjoy stropping with a leather strop, having it in one hand and the tool in the other while you're imagining to sharpen your barber knife as in movies. However, there are days when you don't want to struggle and simply need it done. That's when the
strop wheel
like this one comes into play. It will deal with the task quickly, accurate and give you the needed polish in a blink of an eye.
Well made good value and quality item for honing and polishing jobs. Exactly for my small mini grinder.
Great stropping wheel
Definitely recommend this productI did not use it like you see in the video on a hand drill.I had reached recently purchased a FLYRIVERGO Machine for leatherwork burnishing/sanding.I took the sanding disc off and put the stropping wheel in its place. It fit the half inch shaft after I put the adapters that come with the machine for this application. I have to turn the machine around so that the wheel spins away from a wall sharpening any of my leather, sharpening tools.On the plus side it does a great job on all of my kitchen butcher. Knives and carving knives actually better than most I've ever used.Just apply the jewelers rouge and you're good to go!!I definitely recommend this product!!
Razor Strop
I like its portability, & compactness & it has great value...
Poco diametro.
En su trabajo va bastante bien, aunque deberia tener 2 mm. mas de circunferencia, es algo pequeño.
Very important to learn to strop without cutting yourself
very useful, but everyday users have to learn how to be careful and avoid cutting yourself while stropping
The suede side of the leather is used.
The suede side of the leather is used for the strop. It seemscto hold more compound that way and is easier to apply evenly. The strop surface is 1 inch wide by approximately 8 1/2 inches long. It works well for my kitchen knives, even the Sabatier 12 inch chef knife, as it is the same approximate length as my honing stones and steel. The strop is of good quality and works well with premium compound. (It came with a small bar of unlabled green compound, but I charged it with the premium compound because I am confident in its performance.) The price is reasonable and the size is perfect for my kitchen knives and I recommend it with the caveat that I did not use the provided stropping compound for tge above reason.
Nice strop
Nice strop. It's about 1 in wide so it doesn't have a large stropping surface. It does have the leather rough side up so it holds compound very well. Also comes with a small bar of compound. Works very well
Works as per advertised
It works as per advertised
Small size fits in toolbox
This one goes with me where is the larger one stays at home you can always find BeaverCraft quality in the Ukraine made tools
Great for leverage
Should have got a wider one